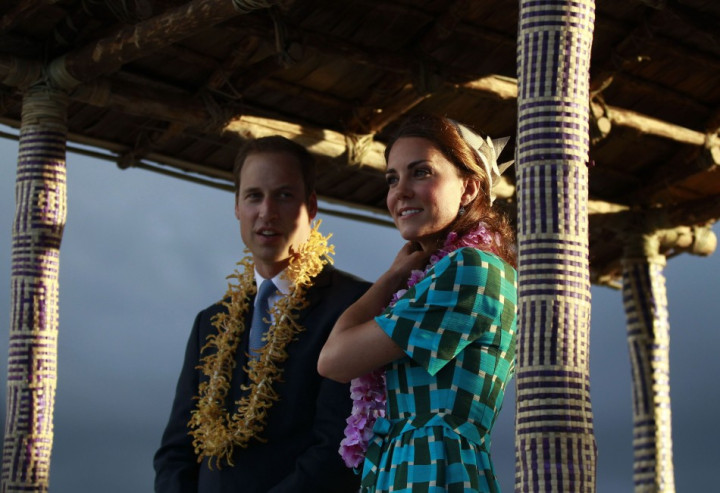 Kate Middleton and Prince William have arrived in the Solomon Islands to continue their nine-day tour of the Asia-Pacific region to celebrate the Queen's Diamond Jubilee.
The royal couple were greeted at the airport in the capital of Honiara by the Governor General of the Soloman Islands, Sir Frank Kabui. Also in attendance were the Governor General's wife, Lady Grace Kabui, and the Prime Minister, Gordon Darcy.
Kate and William were accorded a traditional welcome before boarding an open-topped vehicle in the shape of a canoe with a leaf-roof canopy for a parade through the streets of Guadalcanal Island. They were greeted by a crowd of 60,000 people.
The Duchess of Cambridge wore a geometric-patterned cotton dress by Jonathan Saunders Evelyn and matched it with a Jane Taylor hat and LK Bennett heels. Prince William wore a dark blue suit and light blue tie.
"We are just so excited to see them come here. I think almost everyone in Honiara is here," Barbara Daufanamae, a 21-year-old student, said, adding, "This is just so unexpected, it's such a privilege for the country, out of all the countries of the Pacific to have them come here is a privilege. Nothing really happens in town so when somebody comes everybody comes out and everybody goes crazy."
The Duke and Duchess of Cambridge also attended Sunday Service at St Barnabas Cathedral and an Island Feast hosted by the Governor-General at his official residence. Prince William made a speech at the function.
The royal couple have already visited Singapore, Malaysia and Borneo on this tour. The couple chose to complete their visit and ignore the scandal over the publication of topless photos of the Duchess of Cambridge, a scandal that continues to grow with reports that Italian magazine Chi is planning a 26-page special of the photos, which first appeared in the French magazine Closer.