The Duchess of Cambridge today (25 November) launched a £10m fundraising appeal to build a new children's hospice in Norfolk.
Kate Middleton, who is now four months pregnant, arrived at the Norfolk showground this morning to hear about the importance of the charity from staff, families, volunteers and members of the community.
The mother-of-one and patron of East Anglia's Children's Hospices (Each) joined hundreds to watch presentations from staff and families who use Each services, and to inspire the public and support the campaign.
The Duchess said: "I greatly admire the dedication, generosity and achievements of the charity's supporters and volunteers, and look forward to seeing the progress of this campaign."
Middleton arrived to the engagement wearing a red Catherine Walker dress that showed off her baby bump, and had her hair styled in a sophisticated ponytail.
She spent time meeting children and parents supported by Each and was shown a range of Emma Bridgewater pottery that she has helped to design as part of the fundraising campaign.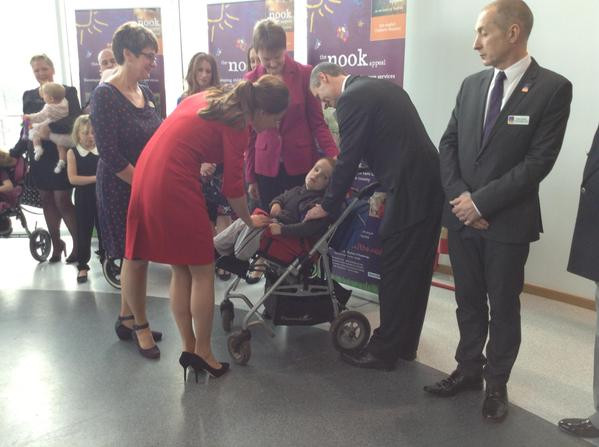 The new hospice at Framingham Pigot will replace its existing Norfolk hospice at Quidenham which is the oldest in the UK and has restricted facilities.
Planning permission for the new hospice, the Nook, was granted in June but funds need to be raised as part of the appeal before building work can begin.
Chief executive of Each, Graham Butland, said: "We're really excited about the launch of the Nook appeal today and it's great to be able to share our vision publicly.
"Everyone at Each is honoured and extremely proud to have the Duchess of Cambridge as Royal Patron and delighted she is able to join us today as we share our vision for the Nook."
According to the Eastern Daily Press, the Duchess's appearance has "put the profile of the campaign on a national stage, and made a real difference to the charity's efforts."
The visit is one of several engagements Middleton is carrying out now she has recovered from her acute morning sickness.
As well as East Anglia's Children's Hospices, Middleton is also patron of other children's charities including Action on Addiction, The Art Room and Place2Be.