Kate Middleton not amused as cheeky London Marathon runners squirt water at the royals
Prince Harry and Duke and Duchess of Cambridge cheering from the sidelines when they took a soaking.
While Kate Middleton, Prince William and Prince Harry were met with a rousing welcome at the London Marathon today (23 April) some runners may have got a bit too excited to see them.
As the trio handed out bottles at a water stop several athletes couldn't resist having some fun at their expense and squirted water at them.
Harry managed to avoid the spray and William took a bit of a soaking but laughed off the stunt. Kate however, was clearly not amused as water fell on her fleece.
The royals had earlier set off the klaxon to mark the start of the marathon for 40,000 participants on their 26-mile run.
The marathon's official charity, Heads Together, was launched by the three royals last year and coordinated in their black Heads Together jackets, they were on hand to support the 700 runners representing the charity.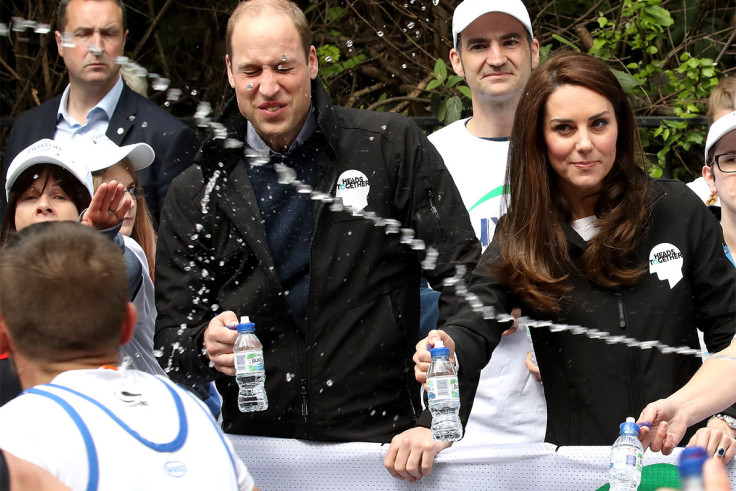 Runners received hugs and high fives from Harry as Kate excitedly waved a large blue foam hand. Some of those in the marathon stopped for a chat and a selfie.
"Well done guys," William shouted as they passed by.
Harry presented the awards to the top three elites and World Para Athletics Marathon World Cup competitors.
The annual race attracted a host of celebrities including pop band Scouting for Girls, who are running for the Alzheimer's Society, and radio host Chris Evans, who ran for the third year in a row for Children in Need.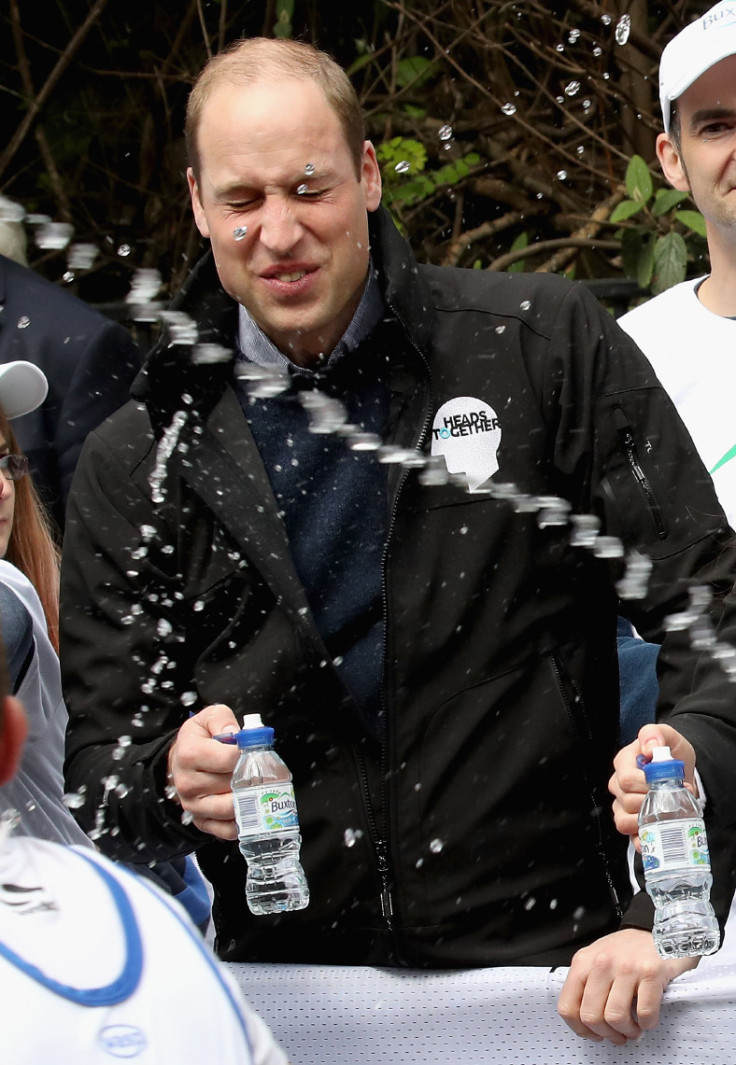 The appearance by the royals at the London Marathon marks the culmination of a week-long campaign to promote their mental health awareness charity. Events included an informal reception for marathon runners representing Heads Together hosted by Kate, a video call between Prince William and Lady Gaga who shared her experiences of mental health issues, and a surprise guest appearance by William and Kate at Radio 1.
© Copyright IBTimes 2023. All rights reserved.