Kate Middleton and Prince William have given some candid insights into their surprisingly normal family life.
While the young British royals are accustomed to a life of pomp and ceremony, regularly donning their finery for a red carpet event or a gala reception hosting dignitaries and world leaders, they prefer nothing more than staying in with a curry to catch up on Homeland.
The pair made an appearance earlier today (Friday 21 April) on the Scott Mills show on Radio 1 to surprise DJ Adele Roberts who is running the London Marathon on Sunday representing their charity Heads Together.
During the rare interview they described a typical night in. They revealed that when the children have gone to bed, they just like to kick back in front of the TV.
"I've got my comfy clothes, yes. I don't know if they're the same as what you wear though," said WIlliam.
Asked if they ever watch EastEnders or Gogglebox with a takeaway Kate replied: "Absolutely. And curry - definitely."
"It doesn't usually get ordered to the palace. Normally someone goes and picks it up," William added.
Sharing their mutual love of music William revealed that he had partied with Tinie Tempah at Radio 1's Big Weekend in Bangor. The star gave the prince "a very sweaty man hug", he added.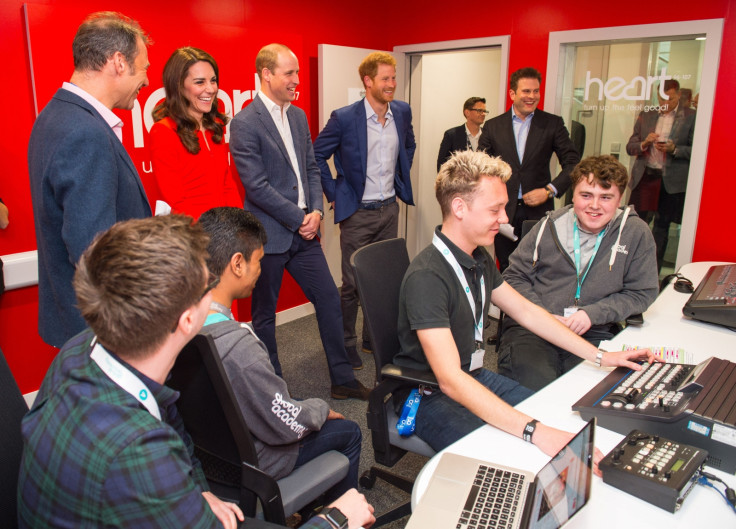 The royals' last live gig was Coldplay at Wembley.
Mills asked whether they ever thought of going incognito. "Do you ever think, 'If I wore a comedy beard and hat I could go into that crowd?'"
"It has crossed our mind," William replied. "Who's to say we haven't done that already?"
He admitted that he had used a fake name in the past to request shout-outs from radio DJs.
"I got a shout-out the other day from Adele, and one ages ago from Sara Cox," he said. "I felt very privileged.
"I'm probably on the edge of your age limit I'm probably supposed to go on Radio 2 now but I'm hanging on in there."
The father-of-two added however that he draws the line at shaking a leg in public after causing a sensation with his "dad dancing" in Verbier.
"I've got into enough trouble with my dancing recently. So it's probably best to stay away from that one," he said.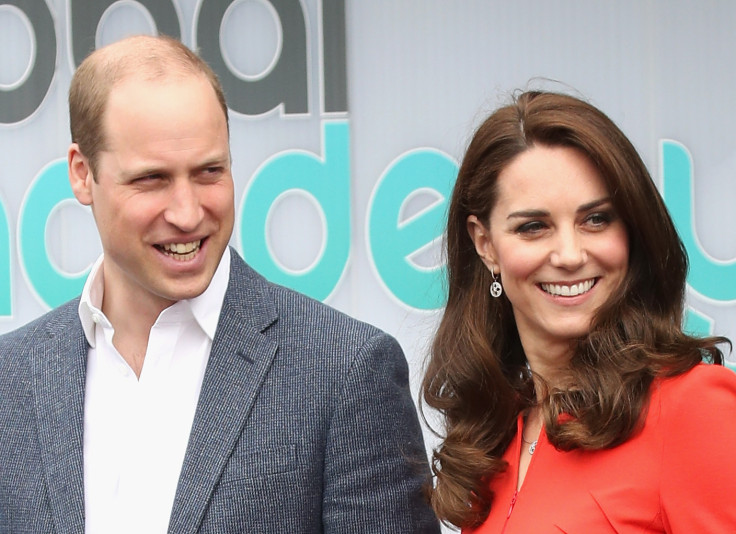 The royals embarked on a promotional campaign this week ahead of Sunday's London Marathon where the mental health awareness campaign championed by the them and Prince Harry, Heads Together, is the official charity.
Earlier in the week they shared a video of Prince William chatting to celebrities such as Lady Gaga about the importance of mental health awareness.
Speaking about the week of events in the runup to the marathon, Prince William said: "We've had an amazing time promoting mental health. It's been really eye-opening seeing just how much this issue is brimming under the surface.
"It's like a boiling pan of soup. We've just taken the lid off. People are taking the challenge on. It's just a case of trying to get people have a conversation."
Following the broadcast, Kensington Palace tweeted a photo of the royal couple wearing the new Heads Together Campaign digital headbands: