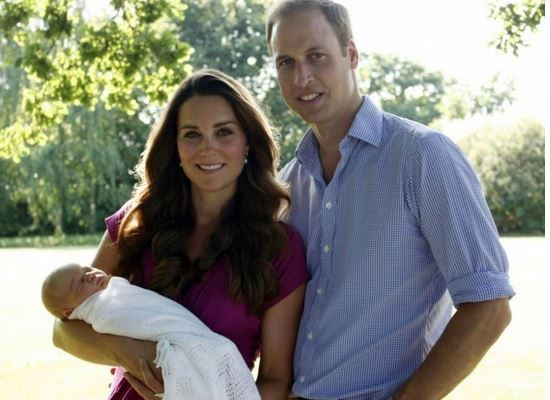 A family portrait of Kate Middleton and Prince William with Prince George has been put on display in the Queen's sitting room at Balmoral Castle in Scotland.
In a new picture of the 87-year-old monarch sitting at her Scottish Highlands home with New Zealand Prime Minister John Key released, an official family portrait of William, Kate and George, taken by Kate Middleton's father, Michael Middleton can be seen. In the image, the Duchess of Cambridge is cradling her newborn son and standing beside her husband, Prince William.
New Zealand Herald reporter Claire Trevett described the living room - "a lived-in, comfortable room with paperwork piled up and in boxes marked simply "The Queen". Tables were stacked with photos of her family, including one at Mr Key's elbow of the latest addition, Prince George, with his parents, William and Kate, the Duke and Duchess of Cambridge."
In the room, there were also portraits of young Queen Victoria, painted by Hungarian artist Charles Brocky in 1841, Prince Albert and a framed picture of the Queen's second son Prince Andrew, Duke of York with his daughters Princess Beatrice and Princess Eugenie.
As previously reported, Prince William and the Duchess were at Balmoral recently and their nine-week-old son met his great grandfather, Prince Philip, the Duke of Edinburgh, for the first time. The 92-year-old royal could out meet the new born, who was born on 22 July, as he had been in hospital recovering from abdominal surgery.
In other news, Prince William and Kate Middleton will reportedly take their bundle of joy on a royal tour around the world, and the royal couple has applied for Prince George's passport.