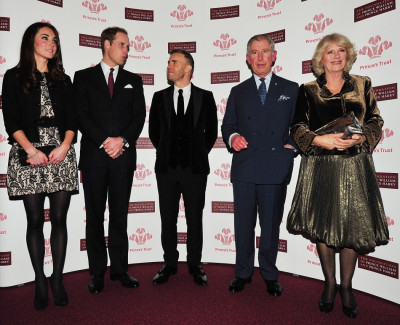 The Duke and Duchess of Cambridge, Prince William and Kate Middleton, were treated to a special performance by Gary Barlow at the Royal Albert Hall in aid of royal charities.
The couple were in attendance at the second of two sell-out charity concerts, which have raised £400,000 for the Prince's Trust and the Foundation of Prince William and Prince Harry.
The Duke and Duchess were joined by the Prince of Wales and the Duchess of Cornwall, Charles and Camilla, as they carried out their first joint public engagement.
Before the Take That singer took to the stage, he met the special guests and said to Prince William: "I hope you enjoy tonight and I hope it's not too loud," to which the prince responded: "The louder the better, the louder the better."
It was the first solo show from Gary Barlow in more than 11 years and he performed a mixture of songs from Take That and his own solo hits throughout the performance.
He was later joined on stage by guests, including Jason Donovan and Lulu, who performed the number one hit "Relight My Fire."
The money raised by the concerts will benefit young people whose communities were affected by the riots in August.
The Prince of Wales launched the City Riots Appeal and hopes to pump money into five of the areas hardest hit by the riots.
The Foundation of Prince William and Prince Harry will also use money from the concerts to help young people by giving them the tools and encouragement to fulfil their potential.