The Duke and Duchess of Cambridge and Prince Harry have recorded a special video message in support of Great Britain's athletes ahead of the official opening of the Rio 2016 Olympic Games. In the 90 second clip, the young royals wished Team GB the best of luck as they urged the country to cheer them onto victory as they "Bring on the Great.".
In a poignant reminder of past British Olympic success, the video includes footage from the Beijing Olympics and the 2012 London games, with the Royal Family cheering on athletes from the stands.
Recalling the London Olympics, where Queen Elizabeth II famously arrived by jumping out of a helicopter (with a little help from Bond and a stunt double), the Duke of Cambridge said: "London 2012 saw this country come alive with a passion for sport. It saw people of all ages, and from all walks of life, join together to support Team GB."
Prince Harry added: "Each member of Team GB will have a unique journey, but they all share the same aim – to deliver the best performance they possibly can."
The Duchess, 34, expressed her hope for more British success stories and said: "London 2012 showcased the best of British sport. We are all so excited to see what can be achieved in Rio."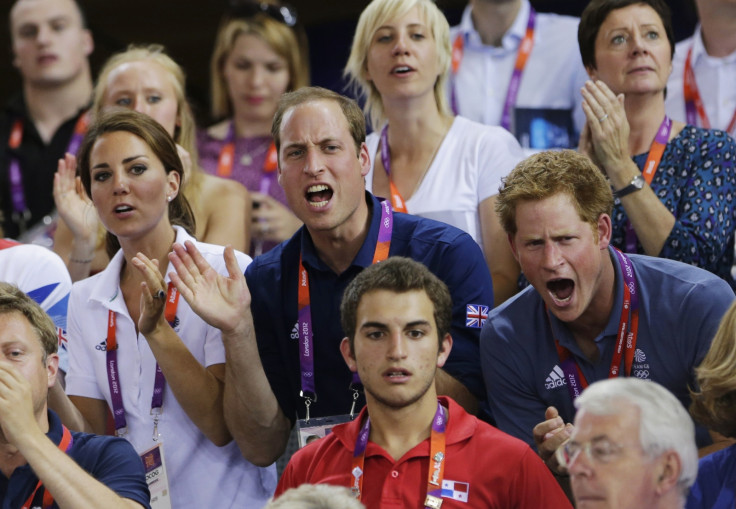 Prince Harry, 31, added: "Our athletes are an inspiration to us all, and we need the whole country to get behind them and cheer them on as they take to the world stage."'
William, 35, who is pictured standing on top of a building said: "We have some of the most passionate supporters in the world, and we can't wait to cheer on our athletes together this time around in Rio."
The video ends with the royals wishing Team GB good luck, with Kate saying: "We can't wait to watch everyone compete." In a rallying cry, Prince Harry said: "Let's top 2012. Bring on the Great!"
Team GB won 47 medals at Beijing in 2008. This year's 366 British athletes are hoping to top that record haul as they compete across 23 sports.
Last month it was reported that Kate, William and Harry would not be attending the Rio games due to fears over the Zika virus. Princess Anne will be attending on behalf of the royal family, while Andy Murray will carry the British flag in the opening ceremony.
The message was recorded before William and Kate went on their family holiday to south west France with George and Charlotte