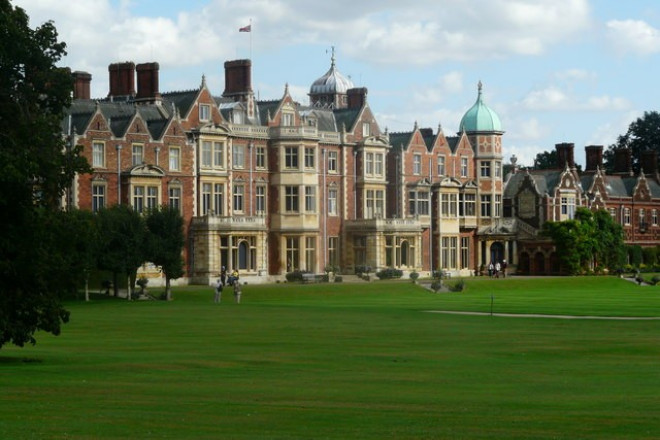 The Duke and Duchess of Cambridge have been putting the finishing touches on their new country home, Anmer Hall, in what is believed to have been a £1.5 million-plus refurbishment.
Although the couple already have a 20-room apartment in Kensington Palace, the Queen decided to give the couple the Grade II listed building on her Sandringham Estate in Norfolk, after her tenant decided to move out. You can see the refurbishment progress here.
The mansion also has an old wood store, which has been transformed into a "nanny flat" for Maria Borallo, who looks after Prince George.
The work on the mansion began in September, after King's Lynn and West Borough Council agreed a to series of planning applications.
It features a glass-roofed 16ft by 16ft garden room which will have a large dining table, as well as an outdoor pool, tennis court and a new clay pantiles roof, which was estimated to have cost over £500,000.
A source told People magazine: "It's like a fancy farmhouse. It isn't grandiose. But it's a great, friendly family environment."
The garden room is believed to have cost between £250,000 and £300,000 and was designed by Charles Morris, one of Prince Charles's favourite architects.
Tony Passmore, managing director of Passmore Group, a Yorkshire-based group specialising in refurbishments, commented: "Surprisingly, they aren't much different from the kind of tiles you and I would have on our houses and are actually in keeping with a traditional-style house."
"The colour is rather bright but they will weather and in five years or so will look as if they have been there for ever."
The garage block has been converted into rooms for police officers, to provide protection for the family, while the front lawn has been reduced to make more room for parking.
Mr Passmore added that the conservatory did not match the rest of the building: "It looks like it has been rather stuck on and doesn't really fit with the rest of the property."
"They have incorporated columns to match those on the door to the building but the roof tiles don't even match," he said. "Prince Charles would probably describe it as a carbuncle anywhere else, although I wouldn't go that far. But it just doesn't flow with the rest of the property."
Royal sources say Kate plans to use the rest of her "maternity leave" to concentrate on finishing the house.
One said: "She is going to spend a great deal of time there over the next few weeks with a view to being able to move in this summer.
"The family will spend most weekends there, although Kensington Palace will remain their primary residence."
Simon Knight, owner of an Oxfordshire Oriental rug shop, told People how Kate had been browsing for interiors before the royal tour of New Zealand and Australia.
"She wants to put her own influence on [Anmer] because," he said. "She wants it to be her own family home."