Supermodel Kate Moss was reportedly escorted from a flight by police following allegations of "disruptive" behaviour.
According to the Daily Mail, the 41-year-old was escorted from easyJet flight EZY2232 when it landed into Luton Airport from Bodram, Turkey just before 4.15pm.
Officials confirmed there were reports of a passenger being 'disruptive' during the flight but confirmed no arrests were made.
A spokesman for Bedfordshire Police said: "We were called to assist staff in escorting a passenger from a flight arriving into Luton airport this afternoon. The passenger had been reported as being disruptive on the flight. Officers attended and escorted the passenger from the plane. No formal complaints were made against her and she was not arrested."
An easyJet spokeswoman confirmed the reports of a disruptive passenger saying: "easyJet can confirm that police met flight EZY2232 from Bodrum to London Luton today due to the behaviour of a passenger onboard."
It's not the first time Moss has been an unwelcome passenger on an easyJet flight. In 2014, Moss allegedly "blagged" her way onto a flight, also from Turkey to London, without a ticket.
The supermodel reportedly turned up at Bodrum Airport 'intoxicated' following a detox vacation at the LifeCo in Golturkbuku. The model then held up a queue of customers waiting to board EasyJet's flight to London after she forgot her boarding pass.
Moss, who is married to Jamie Hince, was in Turkey with friends to celebrate Sadie Frost's 50th birthday. Frost, an actress and fashion designer, is due to turn 50 on June 19.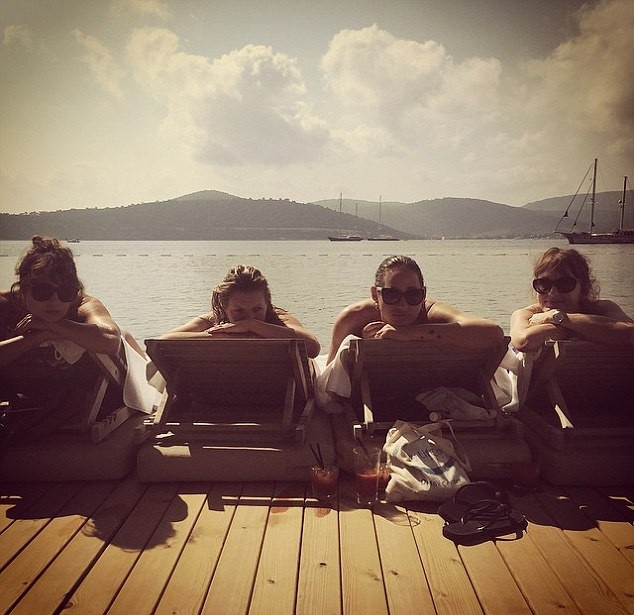 The British supermodel and her friends were treated to a range of unique beauty treatments at the LifeCo Clinic spa in Bodrum, including a freezing cold cryotherapy sauna which involves spending up to three minutes in a room set at -110C.
Earlier, Frost shared a photo of the friends as they relaxed by the coast.
She wrote: "Bye bye Turkey .... Thanks so much for such a girlie yet inspirational week - will remember it forever - you all got me ready for the big half a century!!! @roseferguson_ @francutler @francesruffelle @jem_frenchie @teresatarmey and KM xx'
A week earlier Moss was in Rome, Italy with her 46-year-old husband. The mother-of-one posed in a black mini-dress for a 'selfie' in the Italian capital.