Katie Hopkins has been reported to police for calling for a "final solution" in the aftermath of the terror attack at Manchester Arena which killed 22 people, including children.
In response to a tweet to Good Morning Britain presenter Phillip Schofield, Hopkins tweeted: "22 dead – number rising. Schofield. Don't you even dare. Do not be part of the problem. We need a final solution."
Her tweet has since been deleted and rewritten with a message reading "we need a true solution", but social media users were quick to condemn the Mail Online columnist for originally referencing the Nazi term for the Holocaust.
Hopkins has been reported to the Metropolitan Police over the tweet, but it has not confirmed whether an investigation will be launched.
At least 22 people were killed and dozens injured in a suicide bombing at an Ariana Grande concert at Manchester Arena on Monday night.
Greater Manchester police have said the attacker died after detonating an "improvised explosive device" in the foyer towards the end of the concert, as thousands of people were leaving the Arena.
An investigation is underway as to whether the bomber was acting alone or part of a wider network.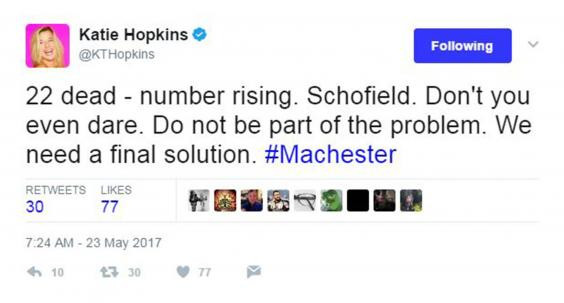 US journalist David Leavitt, who has reportedly worked for CBS and Yahoo, has also been criticised for tweeting jokes after the attack.
Leavitt said there has been "multiple fatalities" and wrote: "The last time I listened to Ariana Grande I almost died too."
"Honestly, for over a year I thought an Ariana Grande was something you ordered at Starbucks," he added.