At least 22 people have been killed and about 60 others left injured when a blast ripped through the Manchester Arena on Monday (22 May) in what appears to be the most deadly terror attack Britain has witnessed in a decade. Prime Minister Theresa May, who called the incident "an appalling terrorist attack", is set to chair a Cobra emergency meeting on Tuesday morning. All political parties have suspended their campaign activities.
A powerful explosion went off at the arena, a 21,000-capacity venue, at 10.30pm on Monday shortly after a concert by American pop-singer Ariana Grande. The pop-star is hugely popular among children and teenagers and the police confirmed that children were among the victims.
Hundreds of people fled the arena as soon as they heard the loud bang. This is the deadliest attack on British soil since the 7/7 bombings, which killed 52 people. Flags over Downing Street are flying at half mast as a mark of tribute to the victims.
Police have confirmed a male attacker, who was also killed in the explosion, detonated an improvised device outside the ticket office of the arena. They said it was not immediately clear if he acted alone.
Initial reports suggested there were two explosions but police said one was a controlled explosion they had carried out. The suspected device turned out to be abandoned clothes.
Paramedics treating the wounded have said some injuries are consistent with the ones caused by shrapnel. As yet, 59 injured victims have been taken to six local hospitals.
Greater Manchester Police had earlier said they were treating the incident as a terrorist attack. For some time after the attack, authorities had asked people to avoid the area surrounding the auditorium as a bomb-disposal squad and armed personnel were at the blast site. Both the British counter-terrorism unit and secret service MI5 are involved in the hunt against those who perpetrated the bombing.
"We are working to establish the full details of what is being treated by the police as an appalling terrorist attack. All our thoughts are with the victims and the families of those who have been affected," the British prime minister said. Home Secretary Amber Rudd called the incident a "barbaric act".
Manchester Mayor Andy Burnham said he will also take part in the Cobra meeting, which is set to start at 9am on Tuesday. "I will be heading over to Greater Manchester Police Force headquarters after this press call to take part in the Cobra meeting alongside the police constable," Burnham said. "We are grieving, we are hurt today but as I said at the beginning we are strong and this city has dealt with difficult days in the past and we will do so now."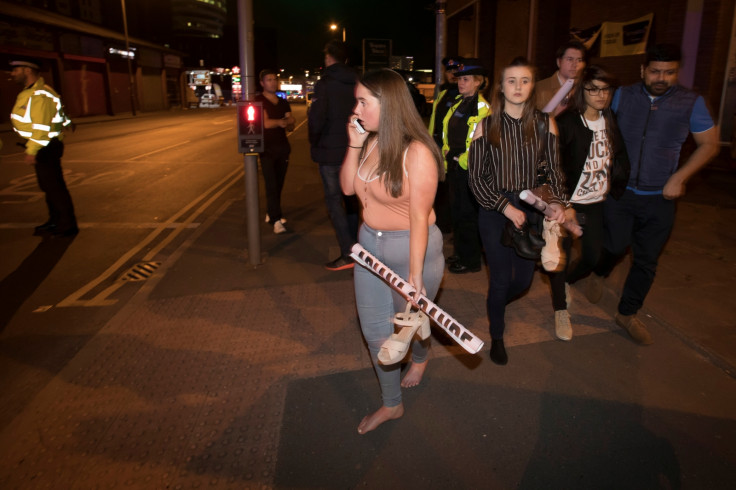 Tories, Labour, Liberal Democrats and the Scottish National Party have officially suspended their campaign activities. Labour leader Jeremy Corbyn wrote on Twitter: "Terrible incident in Manchester. My thoughts are with all those affected and our brilliant emergency services."
Grande, who was uninjured in the explosion, wrote on Twitter in her first reaction: "broken.
from the bottom of my heart, i am so so sorry. i don't have words."
France's newly elected president, Emmanuel Macron, was among the world leaders to immediately offer condolences. Macron said he will also speak to the British prime minister later today (23 May).