Controversial TV loudmouth Katie Hopkins has been reported to the police for committing hate crimes against overweight people.
The ex-Apprentice contestant was reported by a woman belonging to a "fat activist" group during filming for her new programme on TLC, in which she gains and loses three stone in six months.
Hopkins was accused of committing the crime when she met a group of women in London who work as plus-size bloggers and campaigners. The women countered Hopkin's claims that "fat people are lazy".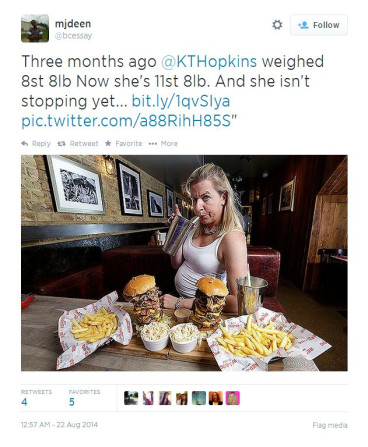 The panel discussion quickly became heated and size acceptance activist Kathryn Szrodecki is filmed storming from the room to the call the police in the second episode of the series, which will air on Saturday.
Szrodecki began to get upset after Katie questioned how she could be healthy because of the weight she was carrying.
The Sun columnist told her: "I'm looking at you and I'm making an assessment that it is not healthy to carry that much weight on your knees."
Hopkins then turns her attention to another member of the group, saying, "Can I ask you something? And you, and you can answer it honestly, or not answer it at all, is why are you big?"
Shortly after, Szrodecki leaves the room saying: "Do you not realise where you're going with this? This is actually to do with a hate crime."
Upon making her intention to call the police clear, Hopkins asks: "Would you like [the phone] brought to you? Because it's probably going to be hard to walk there."
The first episode of Hopkins' controversial documentary My Fat Story will air at 9pm on Friday, 2 January. In it, she goes from 8st 12lb to 11st 13lb and then lost the weight again.