Katie Price had to be taken off the Loose Women panel today (12 December) as she broke down in tears while discussing her mother's illness.
Earlier this year, Price's mother Amy was diagnosed with idiopathic pulmonary fibrosis (IPF), a chronic lung disease. The doctors had given her just a three-year life expectancy.
Discussing Amy's illness, an emotional Price said: "She won't see Harvey's [Price's first child] 18th birthday, all the kids. How can my mum die? I love her so much. I can't do this.
"Thing is my mum's gonna die. It might be my last Christmas with her," she added.
A visibly distressed Price was unable to continue on the show and asked to be excused. "I can't do this, can I go?" she pleaded.
She was then taken backstage by show host Ruth Langsford. Price did not return to the panel after the break. "We got her a cup of tea, she's being looked after and we are going to continue the show without her today," Langsford informed viewers.
Price had been invited on the show at short notice to discuss Keith Chegwin's death. "They only asked me to come on Loose Women last night," she said trying to hold back tears.
Veteran TV presenter and comedian Chegwin, who died on Monday (11 December) aged 60, suffered from the same terminal disease. In a moving tribute to Chegwin, Price had revealed how he had given her mum advice about the illness. The two had met in the Celebrity Big Brother house in 2015 and remained close friends.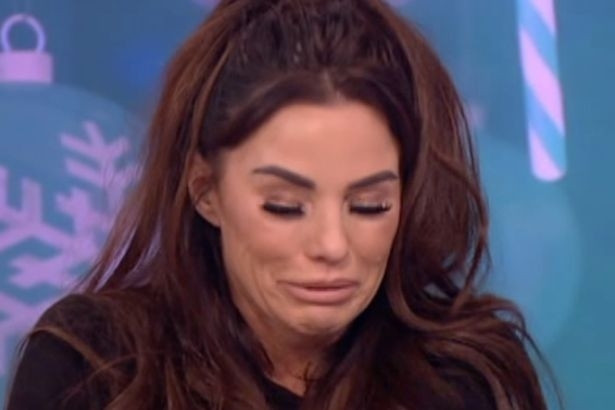 Yesterday, the 39-year-old model had taken to Twitter to express her grief over Chegwin's death. "I'm absolutely gutted that Keith has passed away," she wrote.
Price added: "I only spoke to him few weeks ago and he was giving my mum advice as she is suffering with the same lung condition my mum has which is IPF an incurable disease!
"He was such a very down to earth and extremely funny and absolutely loved his wife Maria and children so much! I will miss him and so gutted as we were all trying to fit in a date to meet up.
"I'm just in shock how quick this has all happened since I spoke to him. RIP Keith and will continue with your advice for my mum."
Before she left the Loose Women panel, Price explained that her mum had been coughing for about five years and they just assumed it was asthma. Then a few months ago she suffered from a cold and it was only then that Amy was diagnosed with IPF.
Price has recently admitted to taking anti-depressants in order to deal with the difficult time in her life. A few days before she found out about Amy's condition, her husband Kieran Hayler had confessed to cheating on her with their 40-year-old nanny.
The Apprentice star Karren Brady later replaced the absent Price on the Loose Women panel.
"For the moment thank you Karren, but you're going to stay with us now. Because we had a spare seat and I thought 'she's been a Loose Woman'," Langford told Brady.