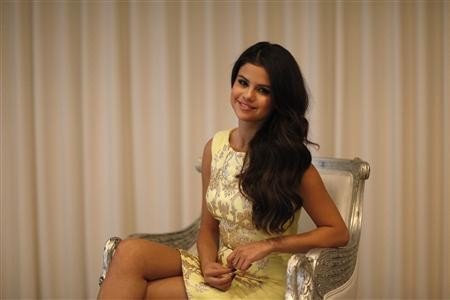 Kris Jenner reportedly approached Selena Gomez to appear on the family reality show Keeping up With the Kardashians.
According to VH1's The Gossip Table, the 21-year-old former Disney star who has been hanging out with Kendall and Kylie Jenner lately is being "begged" by their mother Kris to appear on the show.
"[Kris] thinks having Selena appear on an episode would elevate the brand even more. Selena and Kendall text all the time," a source told Hollywood Life.
The insider added that fans will "most likely see Selena next season on 'KUWTK.'"
Gomez was recently spotted with the Kardashian siblings at the 1Oak in Los Angeles for a star-studded bash thrown by Sean 'Diddy' Combs to mark his son Christian's 16th birthday.
The girls took to their social networking sites to post a couple of selfies. In one picture, Gomez is seen with Kylie on the floor in a pile of flower petals. The Come & Get It singer captioned the photo "kylie&roses" and Kylie captioned it "Selena&Roses."
Previously, Kris allegedly wanted Kendall and One Direction star Harry Styles' relationship to be featured on the show.
"Kris has a double interest. Obviously she wants her daughter to have the best relationship with Harry but as the show's EP knows how much of a draw footage of the pair could be," an insider told the New York Daily News then. "Naturally, the producers want Harry on camera."