Kell Brook assured Floyd Mayweather, Manny Pacquiao or Amir Khan stadium fights by Eddie Hearn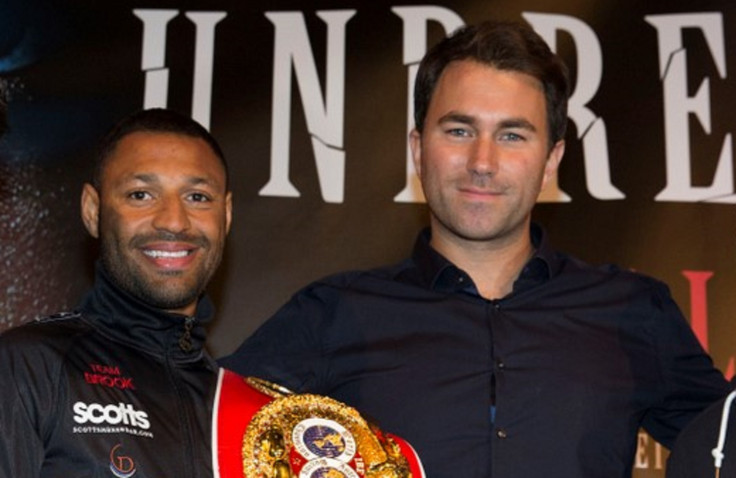 Floyd Mayweather Jr, Manny Pacquiao or Amir Khan lie in wait for Kell Brook should the British IBF world welterweight champion successfully defend his title against Jo Jo Dan, Matchroom Boxing promoter Eddie Hearn has confirmed.
Brook's faces mandatory challenger Dan on 28 March in Sheffield but is already looking ahead to challenges later in the year in an effort to translate his domestic dominance into global stardom.
Retaining the IBF crown won from Shawn Porter last August will open the path to offers to fight some of the division's biggest names, and Hearn has all but guaranteed Brook a career-defining bout this summer.
"In terms of the promises you've got the reassurance from Sky [Sports] the broadcaster that the right fight is a big pay-per-view fight, it's a stadium seller," he told IBTimes UK.
"So my assurance is you win this fight [against Jo Jo Dan] and you will be in a big pay-per-view fight in the summer which is the golden chalice of boxing.
"In terms of which opponents you can deliver, as a world champion with that kind of money to bring an opponent over, it's not hard.
"It's not hard for me to bring an opponent over because I know I've got a big pot of money and I can pay them to come and I can give them a challenge for a world title. In Kell's position, he's got it all. All he has to do is keep winning."
The gruelling negotiations between Mayweather and Pacquiao during recent years are an indication over how difficult striking a deal between two fighters can be but Hearn's confidence that he can deliver a big-name opponent this summer is a welcome boost to Brook.
Though a record of 34 wins from 36 fights makes Dan a dangerous opponent, the biggest obstacle facing Brook may be mental; with the Sheffield-born boxer fighting for the first time since being victim of a life-threatening knife attack while on holiday in Tenerife.
The 28-year-old had to undergo surgery after suffering cuts to his arm and leg during the incident in September 2014, less than three weeks after becoming the first Brit to win a world title in the United States from an American fighter.
Hearn admits to being uncertain over Brook's mental state but says his impressive training regime suggests any demons from the episode have been dismissed.
"It's not something we will know until he gets into the ring," he added. "Fighters are different to normal people, if it was you or me in that injury, forget the physical injury, how do we overcome it emotionally and mentally? We'd probably have nightmares most nights.
"I don't think he's thought about it to be honest and that's what most fighters are like. For Kell, for the mental side of the injury, it has got to affect him, but we won't know until he gets in the ring.
"What I can tell you is his runs are the same, he's beating his times. 10-12 weeks out he's not normally at this level at fitness. He's been working for about eight weeks.
"There is nothing you can do about it. Knowing Kell, I don't think it will affect him. I don't really talk to him about whether he thinks about it, flash backs. When you fight you fight and when you're in the zone you're not thinking about whether you shut the front door."
© Copyright IBTimes 2023. All rights reserved.