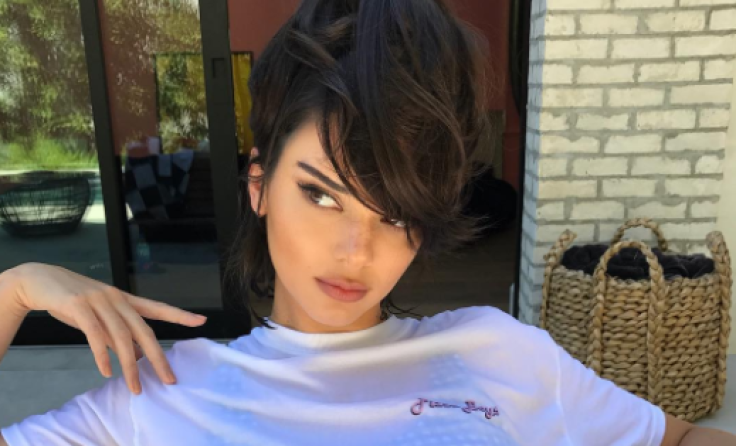 Her little sister Kylie Jenner overtook her on Instagram last year in terms of followers, amassing a colossal 95.5m fans – just 6m behind big sis Kim Kardashian.
And now it looks as though Kendall Jenner, 21, is ready to play catch up, with the model – who has 82m Instagram followers – posting more frequently in the past week.
Her retro snaps have garnered millions of likes, with her bikini picture on Wednesday (21 June) prompting followers to suggest she had her lips done.
She has since posted another scantily clad snap of herself in a white top and leopard print knickers, while the latest one is of herself and Kylie in colourful robes.
Kendall captioned the 60s-style snap: "they're playing our song".
And many of the Victoria's Secret model's followers were quick to praise the glamorous shot, where Kendall was sporting a beehive updo with a plunging purple silk dressing gown and Kylie wore a similar design in yellow with her raven hair loosely backcombed.
One person commented: "This is where Kendall outdoes kylie", as another put: "My entire lifethese sisters never fail to slay "
Another added: "You look like Audrey Hepburn in this pic", as a fourth said: "Kendall is killing the game".
Someone else praised both sisters, writing: "Everything ❤classy ladies @kendalljenner and @kyliejenner".
Kendall is shrugging off recent criticism from Spike Lee about her Pepsi ad this week, with the filmmaker telling Variety: "It was horrible. The pregnant woman in Seattle got shot the other day. Philando [Castile], the whole world saw him get killed on Facebook, and the cop walked, and Pepsi did something like [that]. Don't get me started."
The 60-year-old added: "That was a complete appropriation of Black Lives Matter, and Black Lives Matter is not a joke. Black people getting shot down left and right, and cops are walking and they are going to make a commercial out of that?"