Kenya: Two shot dead by police as opposition protest turns deadly, body used to 'block road'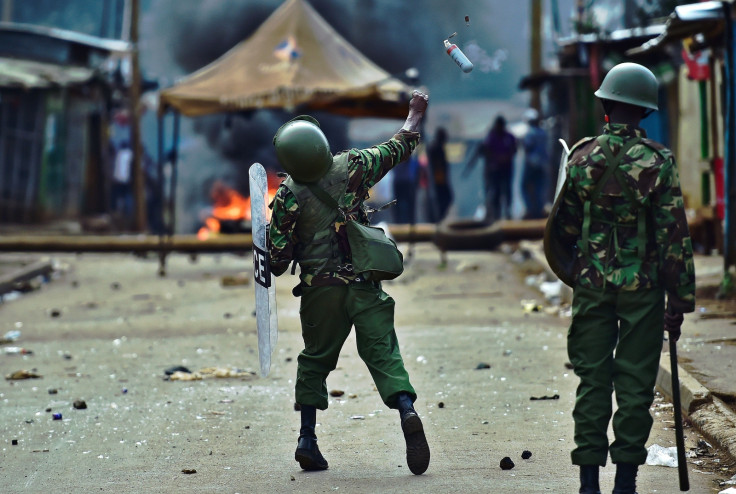 Two people have been shot dead by police during an anti-election protests in Kisumu, Kenya's third city, on Monday (6 June), according to the country's opposition.
Kenya was bracing for yet more anti-election protests on 6 June, despite a warning by the capital's police chief that they were prepared to use lethal force if necessary. The opposition Coalition for Reforms and Democracy (CORD), led by former Prime Minister Raila Odinga, who lost the 2013 election, has been carrying out protests in Nairobi and other major cities every Monday for several weeks.
It is calling for the electoral commission (Independent Electoral and Boundaries Commission, IEBC) to be dissolved due to allegations of bias and corruption (Read Why is Kenya's opposition protesting?).
Opposition: Two dead under police fire
At least two protesters were killed by police fire in western Kenya's Kisumu city, Reuters news agency quoted an opposition spokesperson as saying.
Six protesters in Kisumu are currently being treated in hospital for gunshot wounds, the Red Cross confirmed.
Security forces, which earlier warned demonstrators they were prepared to use lethal force if necessary and make arrests, fired into the air to disperse protesters.
"We have confirmed two people shot dead," confirmed Dennis Onyango, spokesman for opposition leader Raila Odinga, is expected to run against President Uhuru Kenyatta in election next year.
Protesters were reported as using the body of one of the victims to close off a road, as demonstrators engaged with police in running battles, according to Kenya's Daily Nation newspaper.
CORD protesters determined to go ahead
The weekly protests had been suspended for two weeks after police shot, beat and tear gassed demonstrators, and three protesters were killed in a similar rally on May 23 after protests turned violent.
Kenya's opposition coalition, however, said it was determined to go ahead with the rallies, with one leader threatening to increase the number of its weekly protests if President Uhuru Kenyatta turns down IEBC dialogue. He said countrywide street marches will be held on a daily basis if the government does not heed dialogue calls in three weeks.
Why is Kenya's opposition protesting?
Kenya's next presidential and parliamentary polls are not due until August 2017, but politicians are already trying to galvanise their supporters in a nation where violence erupted after the 2007 vote and the opposition disputed the outcome in 2013.
CORD, led by Raila Odinga who lost the 2013 vote and unsuccessfully challenged the result in court, has accused the IEBC of bias in favour of the governing Jubilee coalition, and lack of independence.
Its supporters insist that the same officials should not be allowed to preside over the 2017 general election.
The ruling Jubilee party defend the officials.
"If you don't accept dialogue within two weeks we will protest every Monday and Thursday, thereafter everyday," Machakos SenatorJohnson Muthama said during a press conference on Monday morning.
Also present during the briefing, Siaya Senator James Orengo said the opposition alliance would "ensure the public behaves in a peaceable manner and are unarmed during the process".
Social media users on Monday morning also took to Twitter to discuss the upcoming #CORDdemos, using the hashtags #TeargasMonday and #IEBCMustGo.
Otsieno Namwaya, a researcher at Human Rights Watch's Nairobi office, described police use of excessive force and ensuing violence was a threat to human rights.
Kenya faces the spectre of another disputed and violent election next year, less than a decade after mass post-election violence between December 2007 and February 2008. They left at least 1,133 people dead, more than 600,000 displaced, while more than 40,000 incidents of sexual and gender-based violence were recorded.
UPDATE:
06/06/16 15:35 GMT
Doctors in Kisumu, western Kenya, say they have pulled out a bullet from the body of a five-year-old boy who was wounded in the protests.
The boy survived, according to local media. The police are yet to comment.
While the protests turned violent in Kisumu, demonstrations have now ended peacefully in the capital Nairobi, where the opposition coalition used "peace marshals" to control protesters.
There were only a few police officers in the electoral commission headquarters, but no officers on the roads used by the protesters, according to BBC.
Peace marshals, who were used by the opposition coalition, formed human cordons outside the IEBC building to prevent the protesters from entering the building.
© Copyright IBTimes 2023. All rights reserved.