As Manchester City close in on their first league title since 1968, QPR manager Mark Hughes will allow himself a wry smile. Ousted from Eastlands and replaced by Roberto Mancini before he was lavished with the transfer funds to overhaul the squad, Hughes nevertheless saw the potential in a young Hamburg defender named Vincent Kompany back in August 2008.
At the age of 22, Kompany completed his transfer to the Premier League for the bargain price of around £6m and has since blossomed into one of the best centre backs in the country.
The Belgium international's first-half header sealed a famous victory for City against Manchester United on Monday night, sending his side top of the league on goal difference with only two games remaining.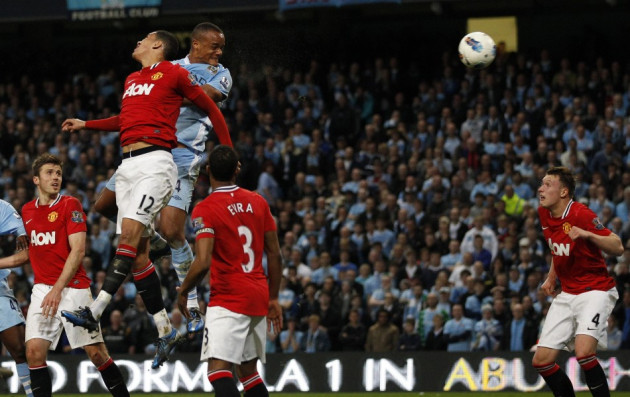 Victory at Newcastle on Sunday, followed by another at home to QPR on the final day should be enough for City to win their first title in over 40 years. And former Arsenal defender Martin Keown believes, should City claim the league crown, that Kompany will have played a crucial role in their success.
"Vincent Kompany has always impressed me with his focus and commitment but against Manchester United he was a man possessed," Keown told the Daily Mail. "Not only does he bring his qualities as a player but he does the manager's job for him.
"He wants to take charge, to help. He is a dream defensive partner for that reason. Last season I said young players should look to emulate him. He hardly has a flaw.
"These days you've got to be able to jump like an NBA basketball player to make the difference at the highest level. The extra inches to score that goal came from the power in his quads. And despite his size he is mobile and quick."
Manchester City boss Roberto Mancini insists Manchester United are still favourites for the title despite their 1-0 loss at the Etihad Stadium but the Italian warned his side against complacency in the next two games.
"It is not finished," Mancini is quoted on ESPN Soccernet. "If we think it is finished, we will be making a big mistake. Manchester United are the favourites."
And the City captain echoed his manager's comments, saying there was still potential for further twists in the title race.
"Absolutely buzzing. We've been waiting for this moment," Kompany said in the aftermath of Monday's clash. "It's far from over and we know that, but to give our fans two wins over United this season... we have to finish it off and we have to do it over the next two games."