Kerry Washington: Scandal star says she 'had no idea that the abortion scene was coming'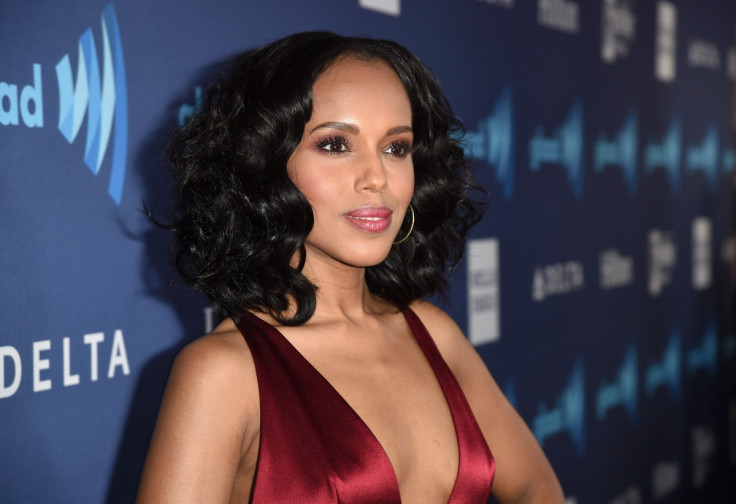 Kerry Washington prefers to be surprised by the plot twists orchestrated by Shonda Rhimes for Scandal and often doesn't see them coming until she turns the page on her script. The actress, who features on the cover of Adweek's April issue, said she lets the show's creator take the story forward her own way and simply tries to "show up and try to bring it to life".
In her interview with the magazine, Washington, who plays Olivia Pope in the political drama, said she often is not pre-informed about the twists planned for her character, like the kidnapping incident or the recent abortion scene, until they are sitting for a reading. "I had no idea that the abortion scene was coming until I turned the page at the table read and read it out loud with everybody else," she said. "There are occasional moments when she'll give me a hint about something that's coming but it's very, very rare."
The actress prefers to leave the production to Rhimes and her team of writers instead. "I'm not a producer on the show, and I've never sought to be a producer on the show. It's not something that I felt was necessary. Shonda and the writers are in control of that, and I show up and try to bring it to life."
But that doesn't mean she doesn't plan to be in the producer's seat. The 39-year-old enjoys production and has developed a show for ABC. "I just really love producing. I love being able to be part of a solution. I love being able to create opportunities for other people to do what they do, to be part of the collaborative process that is filmmaking and television making," Washington said.
She recently played executive producer and acted in the HBO film Confirmation, which follows the story of Supreme Court Justice Clarence Thomas' 1991 Senate confirmation hearings and the testimony and sexual-harassment accusations of his former assistant Anita Hill. "This story resonated with me because I had really personal memories, not as much about the hearings themselves, because I was probably about 13 when it happened, but I had real memories about how it affected my parents, their feelings about the hearings," she explained.
The Django actress explained how the incident affected her on a personal level as well. "I was made consciously aware of my own identity intersectionality: the idea that there may be times that I feel passionate about something as a person of colour, and there may be times that I feel passionate about something as a woman, and there may be times when those two things are at odds with each other," she elaborated. Confirmation is set to release on 16 April.
It's not only onscreen that Washington is drawn to politics, she has shown her support for Hilary Clinton's presidential campaign and even acted in the I'm With Hillary ad alongside Viola Davis and Ellen Pompeo, her TGIT co-stars. "They separately asked each of us because it was important to each of us that this not look like a TGIT ad; these were individual women making a choice to stand with her [Clinton]."
Rhimes has hinted that Scandal may soon come to an end and that the recently announced season six may well be its last. Comparing the show to her other long-running production, Grey's Anatomy, she told Adweek last September: "Scandal is a limited story. I am not watching Olivia Pope grow up."
She explained: "I am watching a specific moment in time, and I feel like in order to tell the story correctly, you have to end it."
ABC released an official statement announcing the renewal of the TV show for a sixth season, which will premier during the 2016/2017 television season. Till then, audiences can continue to follow Olivia Pope on the show's fifth season, which is currently running on ABC every Thursday at 9pm ET.
© Copyright IBTimes 2023. All rights reserved.