We have seen his bum already and probably have the image of it framed and hung up in some corner of our memories, but who better to tell us about Jason Momoa's body than his onscreen wife Daenerys Targaryen.
In an interview with Glamour magazine, Emilia Clarke who plays the mother of dragons on the Emmy-winning fantasy drama Game Of Thrones, recollected shooting intimate scenes with her former co-star who played her husband Khal Drogo.
"I saw his member, but it was covered in a pink fluffy sock. Showing it would make people feel bad. It's too fabulous," she said, of the actor who is set to play the DC superhero in Aquaman, following his stint on GOT.
Clarke has a share of handsome brawny men on the show and she clearly has some favourites. "I'd like to bring your memory back to Mr. Michiel Huisman [Daenerys' former lover Daario Naharis, the captain of the Second Sons] and I copulating for the first time," she added, "which began with me saying, 'Take off your clothes', and then you got to see his perfect bottom."
The 29-year-old British actress is definitely up for more nudity on the show, and by that we mean the male kind. She already seems to have the plan in place if she ever takes control of the iron throne and becomes queen of Westeros.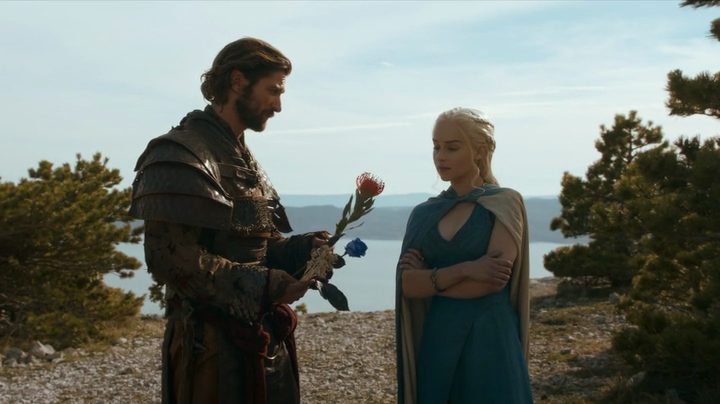 "I want to see Daenerys and her three dragons share the throne," she said, jokingly and continued, "And bring back all the pretty boys, get them to take their trousers down, and be like, 'I'm now the queen of everything! I'd like close-ups of all the boys' penises, please'."
The star of the upcomming film Me Before You explained that while her onscreen character is strong and brings along her own supply of whoop a*s, in real life, she doesn't always feel as strong. "Within the space of time between them saying 'You've got the part of Khaleesi' and now, I lost my power. I found it. I lost it. I found it. As a woman—no, as a young adult you spend your twenties figuring out who you are and what you want to do; it's a scary time. There are days when I feel like the less strong version of myself."
But while Clarke loves Daenerys, she says she prefers to keep her solely for the cameras. When asked if she ever borrowed from her character in real life, she said, "Like, 'I'm gonna throw some Khaleesi down on this situation'? My God. No. I think I can safely say that Khaleesi has never come out in my relationships. I don't think. Possibly. There might have been moments when I've had to pull her out at the last minute! However, if I feel like something is really unjust, I wouldn't turn on Khaleesi. I'd turn on my other alter ego, Cali from the Valley."
Game Of Thrones will premier season six on 24 April on HBO at 9pm ET.