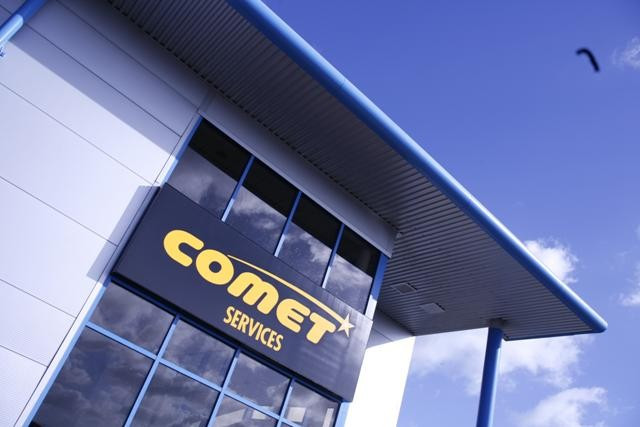 Kesa Electricals has beaten its profits targets as it reported full year profits of £81.9m - above the £75 million it had predicted for for the 12 months ended 12 April.
The owner of Comet and Darty France said that gross margins had increased 30 base points and overall remained ahead of the market, whilst revenue was up 3.4 pct to £5,124.1 million.
However, revenues at its UK stores, Comet were down, 0.6 pct and with the arrival of Best Buy analysts are worried over the group's long-term future here. Darty France meanwhile, the group's french unit grew revenues by 7.4 pct.
In order to complete, Kesa are embarking on a store refurbishment programme in the UK, with a focus on high margin products and a 'refresh' of the brand which is still profitable after a 13.9% increase last year to £11.5m.
The Group also increased its online sales by 23 pct a key concern highlighted by Goldman Sachs in a note on 4th May.
"The growth of new formats, including internet retail, undermine the competitive positions of traditional retailers. Against this backdrop, the winners will be those that can most successfully capitalize on new technologies and channels. We believe that electrical retailers have yet to find a response to these changes. We have Sell ratings on Kesa, DSGi and Home Retail Group." said their analyst.
RISE IN VAT
Thierry Falque-Pierrotin, Chief Executive, commenting on the results said that he was 'pleased' however warned of a challenging year.
The CEO who said that the World Cup had lifted TV volumes by between 30% and 35% across the group, was 'ok' with the key rise in Value Added Tax announced in yesterday's 'Emergency Budget', when asked:
"Clearly the fact that it is planned for January will give us time to prepare, we will follow the market trend. In terms of pricing, I think there will be a balance between deflation [in many of the technology goods it sells] and the VAT rise," he said.
VAT, which has risen to 20 pct, still remains lower than Germany (21 pct) however retailers will have to adjust to it:
""We didn't want a VAT increase. It'll hit jobs, consumer spending, the pace of recovery and add to inflation but we accept the Government has no easy options." said the British Retail Consortium.
"Changing computer systems and shelf prices on tens of thousands of products is a huge, costly exercise for retailers. Planning for catalogues is a particular nightmare." it added, "The start date, in the middle of the busy and crucial post-Christmas sales period, will be difficult but retailers would rather have more notice than less."
"Six months to prepare is better than the rise coming-in this summer."
DIVIDEND
Despite this, Kesa were able to recommend a final dividend per share of 4.15 pence per share.
David Newlands, Chairman of Kesa, commented "The Group continues to demonstrate its resilience to difficult market conditions and I am pleased that our earnings growth and continued strong cash generation have enabled us to recommend an increase in the total dividend for the year of 18 per cent to 5.9 pence per share."
The shares are remain a 'hold' on most analysts, with Keith Bowman, at Hargreaves Lansdown highlighting worries over the competition:
"Despite a fall in same store sales, group profit margins have been expanded, with cost cutting and gains in market share underwriting the performance. Furthermore, the group continues to play to its strengths, with zero borrowing and strong cash flows providing for an attractive increase in the dividend payment (+18pc)." he said.
"On the downside, management outlook comments express caution, whilst intensifying competition, particularly in the UK, is casting an ever growing shadow - North America's Best Buy is now rolling out operations."
"In all, despite current balance sheet strengths and the attractions of the dividend payment, Kesa is not viewed as a long term sector winner, with other rivals preferred. On balance, market consensus opinion currently denotes a hold."