New York City startup KeyMe is clearly vying to put locksmiths and key makers out of business by offering kiosks that can instantly 3D print a new key from a photograph.
People lose their keys all the time, or even worse, lock their keys inside their car or house. Unfortunately, it can cost a huge amount of money to call a locksmith to pick the lock, and even more to completely change the locks.
So instead, KeyMe users can pre-emptively scan and digitally backup their keys using a smartphone app.
KeyMe requires users to photograph both sides of their key on a white piece of paper. They then need to sign up to an account linked with their credit card and address. The image of the key is stored either on the mobile device or in KeyMe's cloud.
When a key is lost and a new one needed in a hurry, users head down to the local KeyMe kiosk, go through fingerprint authentication and request to have the stored key printed out in front of them.
Printing out a key stored in the cloud starts from $20 (£13) each, but users can also do things the old-fashioned way (with a modern twist) and bring their key to the kiosk to be duplicated.
In this case, brass keys cost roughly between $3-$6 (£2-£4) to duplicate, while car keys cost between $20-$65, and this is roughly as much as a key duplication service in a shop would cost.
There are almost two dozen kiosks located at convenience and home improvement stores in New York, such as 7-Eleven, Lowe's and Bed Bath & Beyond. By the end of February 2015, there will be 100 across the US.
The service has now made several hundred thousand keys since its inception and many of its customers also store a copy of their keys in the cloud with them.
KeyMe Security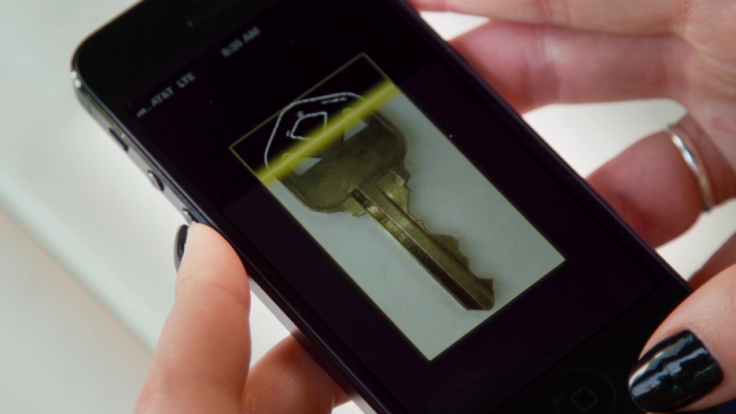 Although there are concerns that KeyMe's services could be used by criminals to duplicate keys by hacking the kiosk or the system, the founders say that their service has similar security to credit and ATM card issuers, such as encryption, SSL, HSTS, and PCI Service Provider Level 1 certified compliance.
If the key hasn't been scanned in the exact way the app dictates, which is four inches away from the smartphone camera lens on a white piece of paper, then the KeyMe system will refuse to accept the image.
The company also doesn't store any information about the key, such as which lock it opens and where, and customers are alerted immediately about any activity on their accounts.
"Like an ATM, all transactions are recorded to provide an added layer of security. Our mobile app requires user verification, a valid credit card, a USPS-verified mailing address and an Apple-verified device and ID to purchase a key," Michael Harbolt, KeyMe's vice president of marketing, told IBTimes UK.
"So unless a criminal has all the details for your account, they wouldn't be able to duplicate your key unless they did it the old-fashioned way – by physically taking your key to a locksmith to duplicate."
Of course, there's nothing to say that you couldn't use your smartphone to sneakily take photos of someone else's keys and then order duplicates to be made, but Harbolt says that the paper trail created by KeyMe makes this prohibitive.
"Or you could take the same amount of time you would have taken to do the above and simply walk down to your local locksmith and get a copy made by paying cash and not providing any method of identifying you by dropping the keys into lost and found," he stressed.
"Given a choice of these two options - one where you can easily be identified, and one where there is no risk of being identified - as a criminal, which option are you more likely to pursue when attempting to commit a crime?
"KeyMe's process of digitally copying keys creates more control and accountability than has ever been possible before in this industry."
The firm intends to expand its service to other countries in the near future, but is currently focusing on the US market, and an app for Android users.