As North Korea celebrates the 75<sup>th birth anniversary of its revered late supreme leader Kim Jong-il on Thursday (16 February), a government source has said the isolated country's recent missile test was meant to honour the leader.
It was the "best possible gift for Generalissimo Kim Jong Il on his 75th birthday," CNN cited an unidentified source, as saying. Kim died in December, 2011.
However, it is unclear if the source was trying to invalidate the speculations that the missile launch was meant to coincide with a meeting between US President Donald Trump and Japanese Prime Minister Shinzo Abe over the weekend.
North Korea test-fired a new intermediate-range ballistic missile called Pukguksong-2 on 12 February. The missile reached an altitude of 550km and flew about 500km before plunging into the sea off the east coast of the Korean peninsula.
Pyongyang is infamous for carrying out missile or nuclear launches during global events. This time around, its foreign ministry said the launch was the reclusive state's sovereign right and a self-defense measure.
The latest missile test came just days before the late leader's birth anniversary. This year's birth anniversary celebration, also known locally as The Day of the Shining Star, began a week ago with a cooking competition for more than 300 participants.
On Thursday (16 February), North Korea launched a two-day celebration for the revered leader, with concerts, fireworks and military displays. The country also held sports events in Pyongyang. In addition, North Koreans are also said to flock to the Kumsusan Palace of the Sun, where Kim and his father were laid to rest. The current leadership of the country, Kim Jong-un, already visited the mausoleum.
The late leader, Kim, died on 17 December 2011 and his birthday on 16 February is observed as a national holiday.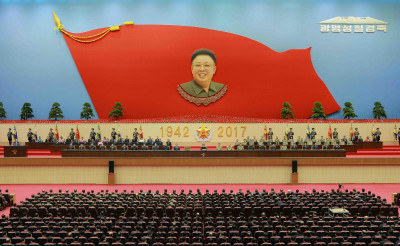 In April, North Korea will mark five years since the current Kim Jong-un took charge as the supreme leader of the country. April will also see the 105<sup>th birth anniversary of Kim's late grandfather. So it has been speculated that the country might be planning something really big around that time as well.
While North Koreans are celebrating the birth of late supreme, the current leader is suspected to have been behind a murder of his half-brother Kim Jong-nam in Malaysia on 13 February.