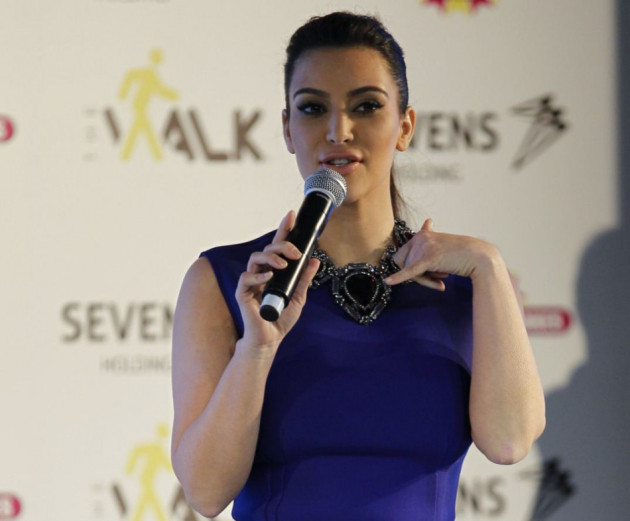 American Reality star Kim Kardashian has stated that Atkins diet is the secret to her post baby body.
"I've actually been doing the Atkins diet & luv it," she tweeted to a fan.
Atkins diet has several fans including Jennifer Lopez and Kate Middleton.
"Kim Kardashian wanted a balanced and effective way to lose weight following her pregnancy and she chose Atkins," Colette Heimowitz, Vice President of Nutrition for Atkins Nutritionals, Inc., told ABC News.
"She ate lots of lean proteins, veggies, fruits, and healthy fats like avocado and nuts. She experienced previous success on the plan, and knew she needed something that works," she added.
It was also previously reported that Kardashian was training with celebrity trainer Tracy Anderson who helped several Hollywood moms get back into shape in record time after pregnancy.
"It's a tough time, and a lot of women feel like it's a huge mountain to climb to get back, but Kim, surprisingly, has had the totally opposite reaction to other moms," Anderson told US Weekly.
"She's like, 'We're going to be so good. its fun, I feel great!' She just loves the whole process. From our talks during her pregnancy, I thought she was going to be really concerned [about her weight] once the baby was out, but she's just not ... She's in baby heaven. She's excited to get started, but she's really calm about it all," the trainer added.
The celebrity trainer also elaborated her fitness routine which was specially devised for the 32-year-old starlet.
"It will definitely be lots of muscular structure," she said.
"In the beginning, it's key getting the deep abdominal muscles back and making sure that you get the strength back in the right layers. She's not going to be doing any typical crunches or anything like that," she added.
Kardashian would initially work out four times a week, eventually increasing her exercise routine to as many as six days a week.
"She promised me she would be the best student ever, and I promised her that I would do it personally for her, that I would go to her myself and get her back. Kim is super motivated. She's all in. Pregnancy is actually an opportunity for women to look better than ever. And [Kim] will," Anderson added.