Kim Kardashian has been showing off her newly svelte physique after some rather unflattering beach snaps in Mexico surfaced earlier this year.
But the 36-year-old's followers are not quite buying her fresh look as she flaunted her super slim figure on Instagram yesterday (17 July) by using a pap shot.
The photo saw the mother of two in a casual outfit of a white button-down crop top and sweat pants, which drew the eye to her minuscule waist and famed hourglass silhouette.
She captioned the shot: "The wind you guys....is this necessary" as her tousled hair blew in the wind as if she was in a shampoo commercial. The snap has garnered nearly 1.5m likes in just 19 hours.
Among the complimentary comments, however, many of the reality star's fans accused her of being fake. One user wrote: "All that surgery is really paying off."
Another added: "Every photo of this birch is photoshopped. A role model of the ages. Famous for nothing, for having accomplished nothing, having not helped anyone, contributed to no one's health and happiness but her own. The most disgustingly shallow and depthless person on the planet."
While another said: "Money can make you look like anything!"
Others expressed their fondness of the picture, with one fan stating: "Absolutely beautiful" as someone else wrote: "Gorgeous as always ;)"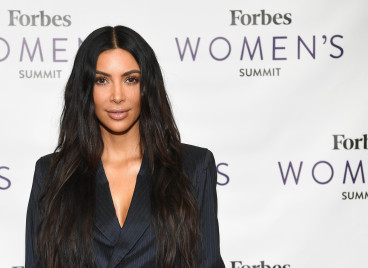 Though Kim has long denied having bottom implants to enhance her famous behind – even undergoing an X-ray on Keeping up with the Kardashians to prove she didn't have implants – it has been suggested that she may have had fat injections to the buttocks.
She has also been accused of having a nose job, since it looks slightly different now than it did a few years ago.
Kim denied this claim in 2016, telling Wonderland magazine: "People think I've had my nose done. I haven't.
"I used to hate this bump on my nose. Hated it. Now I love that it makes me look more ethnic."
Admitting it looks different, she added: "It does look smaller. Maybe it's the contour I use."