King Charles III Urged To 'Get A Grip' On Climate Issue After Jet Trip To France
His Majesty boarded a 2-year-old Airbus A321-200neo (LR) from Fanborough Airport to Paris Orly which emitted 7.35 tonnes of carbon one-way.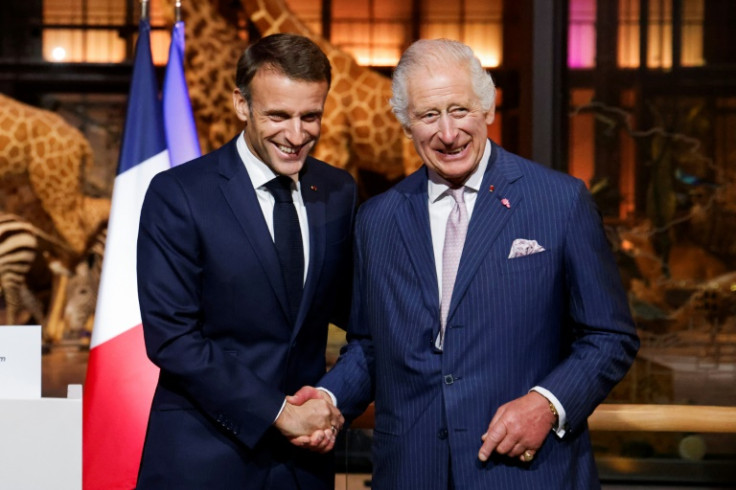 King Charles III is not practising what he is preaching about the importance of battling climate change. He received criticism for taking a private jet instead of a train to his state visit to France on September 20.
The monarch and Queen Camilla boarded Titan Airways on a 2-year-old Airbus A321-200neo (LR) from Fanborough Airport to Paris Orly. It is the most fuel efficient commercial jet available in the market and can fly between 180-230 passengers on a range of over 4,000 miles maximum.
His Majesty's trip took only over an hour but still emitted 7.35 tonnes of carbon one-way. Danny Thurtle, aviation analyst on environment, society and governance [ESG] at consultants IBA, told Newsweek: "The flight from Farnborough to Paris Orly was just 195 miles, and while we don't know exactly how many passengers were on board, a quick search suggests it's unlikely to be more than 20. For context, the [British] prime minister, Rishi Sunak, usually travels on a 12-seater RAF jet for domestic and short-haul international flights."
He added: "If we assume 20 passengers were on board the A321neo, each passenger's share of the total CO2 figure of 7.35 tonnes is around 368kg CO2, which we can double to 735kg to include the return leg."
Meanwhile, the Eurostar train service, which can take passengers from London to Paris via an undersea tunnel for two hours and 15 minutes, only releases around 4kg of carbon per passenger. King Charles III's jet ride produced 92 times as much more carbon per passenger.
According to former U.K. government minister Norman Baker, this is not a good look on His Majesty especially in his campaign against climate change. He said the monarch "seems not to understand that he weakens his own message by his own behavior".
He added that King Charles III's "predilection for private jets and helicopters puts him in the top one percent of carbon emitters in the world" and that "he's hardly in a position to lecture other people from that great height".
Baker, author of "And What Do You Do?" said: "We need to get a grip of the issue, and I think Charles believes we need to get a grip of the issue. It's a bad look and it undermines his message, which is an important one. He needs to get his house in order."
Aside from taking a private jet to Paris, His Majesty further stirred criticism when he flew to Bordeaux, another city in France instead of taking the train, despite a French government order restricting flights that fall below two hours and 30 minutes. French lawmaker Sandra Regol called the monarch's decision "very disappointing".
However, A representative for Buckingham Palace clarified that the decision to let King Charles III and Queen Camilla travel by jet to Bordeaux "was made on the advice of the French authorities". The spokesperson added that "royal travel always seeks to find the best balance of security, efficiency, and the need to minimise disruption for the public when planning transport for Their Majesties".
© Copyright IBTimes 2023. All rights reserved.