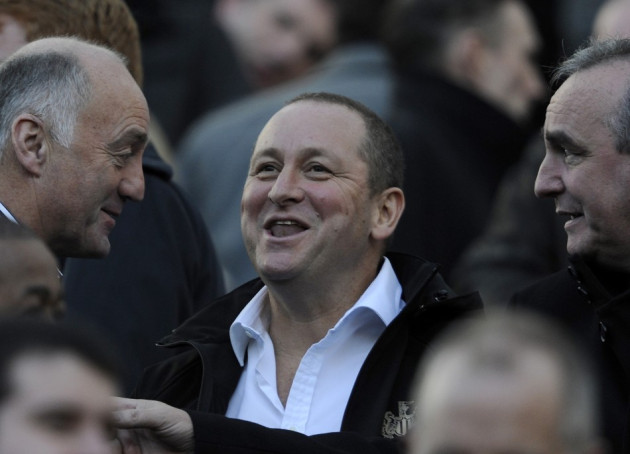 Mike Ashley's billion-pound portfolio suggests he relishes the challenge of making big, unpopular decisions, but the Newcastle United owner and Sports Direct founder's good fortune could once again be compromised after the sanctioning of Joe Kinnear's return from the footballing wilderness as director of football at St James' Park.
Ashley has made a habit of bouncing back from misguided business decisions in the north-east, but you wonder what will be left of Newcastle following Kinnear's second spell with The Toon.
Kinnear won five of his 26 matches in charge of Newcastle during a five month spell in the 2008/09 season, a tenure cut short by further health problems, which resulted in relegation from the top flight at the end of the campaign.
Such is Kinnear's lack of recent experience, with the aforementioned five-months his only spell in football since 2004, the appointment points towards Ashley tightening his grip on football operations and is at severe odds with manager Alan Pardew's vote of confidence after a season defiled by a relegation battle at the foot of the Premier League.
Amid six years at the helm at Newcastle, the justification behind Ashley's decisions have ranged from the reasoned to the non-existent while their reception has been anything but emphatic in the north east.
Despite the exit of club heroes Sir John Hall and Freddy Shepherd during the early months of Ashley's reign, the decision to replace the unpopular Sam Allardyce with Kevin Keegan represented a smart move within a year of taking over.
But weeks after Keegan's much heralded return, Dennis Wise was installed as the club's technical director, a spell which while it lasted a mere 15 months and proved the most significant factor in the club's relegation from the Premier League the following season.
Wise was handed complete control of transfer activity at St James' Park, but Keegan was devoid of clarity, with Spanish flop Xisco signed behind his back while the departure of James Milner to Aston Villa in the final days of the 2008 transfer window contributed to his resignation at the start of September.
Incandescent with rage amid Keegan's departure and a run of one win in their first nine league games, Newcastle fans voted in their droves with numerous protests against the board, and the 'cockney mafia' duo of Ashley and Wise.
Once able to watch Newcastle in the stands with his replica shirt, Ashley was reduced to putting the club up for sale after a defeat to Hull City, a process that despite removing it from the market three months later, he repeated following relegation after Kinnear's spell was cut short and Alan Shearer failed to inspire.
Despite suffering crippling profits with Sports Direct, Ashley took a £33m loss on Newcastle to ensure a rapid return to the Premier League under Chris Hughton. Harmony lasted just one season, with defeat to West Bromwich Albion seeing Hughton removed as manager, and replaced by Pardew, who was on the precipice of the managerial scrapheap after failed promotion attempts with Charlton Athletic and Southampton.
Ashley's wavering commitment to Newcastle earned concrete certainty prior to Hughton's dismissal when he removed the 'for sale' signs from St James' after Barry Moat's deal to buy the club fell through. He pledged to invest £20m in the club immediately, defying claims he had saturated the club's profits.
After an impressive start upon their return to the top flight, Pardew was promised that top scorer Andy Carroll would be retained as a statement of the club's intent on returning to the upper echelons of the Premier League.
Carroll was subsequently sold to Liverpool for £35m on deadline day in the January transfer window, before both Kevin Nolan and Jose Enrique were offloaded in the summer, exits offset by a spate of signings including Demba Ba, Yohan Cabaye and Davide Santon.
An 11-match unbeaten run at the start of the season quickly paled into insignificance as Ashley announced that St James' Park would be renamed the Sports Direct Arena, a move met with anger from all corners of Tyneside.
Notwithstanding the graffiti that met the renaming of a stadium that had played host to Newcastle since 1892, the club finished fifth in the Premier League, but another summer of misguided investment followed and with it the club's results have cascaded.
A chink of light has come in the form of Wonga, the controversial pay-day lender, who while the likes of Papiss Cisse and Cheick Tiote have refused to wear the sponsor on their shirts, have reinstated the St James' Park name.
Relegation was indeed avoided, but the pressure on Pardew's position, which was seemingly cemented in September 2012 after signing an unprecedented eight-year deal, was in doubt.
Managing director Derek Llambias, who used to speak of the abuse himself and Ashley would receive in public from fans, confirmed Pardew had been handed a vote of confidence ahead of the summer.
But Ashley and Llambias could soon be victims of further vitriol after installing Kinnear as director of football above Pardew, with the scrutiny and heat on the Newcastle boss likely to swell to an impasse.
If Kinnear's first coming at Newcastle five years ago contributed to the lowest days of the club's recent history, his return instils anything but confidence that the club will avoid a similar plight once again.
Kinnear's responsibility is headlined by complete control of transfer activity - akin to Wise's control; a structure which has seldom worked within the walls of Newcastle and leaves Pardew's position all but untenable, not least that of chief scout Graham Carr. Both will have be keen to make up for the mistakes of last term.
Ashley's insatiable appetite for instability at Newcastle means Kinnear's appointment can only go one way. The owner will hope he'll have a club to resuscitate one he's done.