Canadian ereader manufacturer Kobo has announced the world's first waterproof and dustproof ereader, saying the Aura H20 will allow readers take their ebooks into the bath and onto the beach.
Kobo, which was sold to Japanese conglomerate Rakuten in 2011, is one of only a handful of companies remaining in the ereader market which is dominated by Amazon's Kindle.
Following the launch of front-lit e-ink screens a couple of years ago with the Kindle Paperwhite, the ereader market has been somewhat stagnant, but Kobo is hoping waterproofing will reinvigorate the market.
The Kobo Aura H20 will go on sale at the beginning of October and will cost £140 in the UK, £30 more than Amazon's Kindle Paperwhite.
Kobo launched the Aura HD last year as a premium, large screen ereader device focused on the hardcore reader, a "niche device" which Kobo thought was going to account for just 5% of its hardware sales.
What it found however was that the Aura HD made up about a quarter of all hardware sales in the last year.
"It showed to us that there was a segment of the market who really were looking for the best possible device for reading alone," Michael Tamblyn, president and chief content officer at Kobo told IBTimes UK ahead of the launch of the Aura H20 this week.
Kobo offers four other ereaders as well as a range of tablets which run a forked version of Android, similar to the Amazon Kindle Fire tablets.
Five Bs
Kobo says it spoke to its customers when designing the Aura H20 and found that reading revolved around what it calls the five Bs: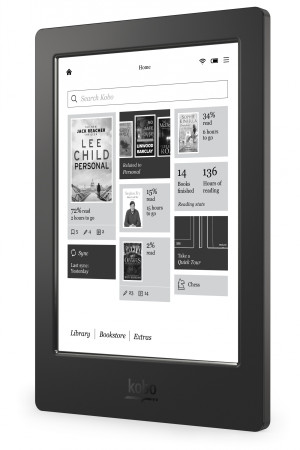 While the Aura HD addressed three of these situations, bath and beach were not covered and so the Canadian company came up with the idea for a waterproof ereader.
The Aura H20 retains the 6.8in high-resolution, illuminated e-ink screen of last year's model but the ereader is now waterproof and dustproof to IP67 certification while being thinner and lighter than the Aura HD.
IP67 means that the device is certified to remain working even if you submerge it in one metre of fresh water for up to 30 mins - though only as long as the ports on the device are covered.
Asked if the Aura H20 would repeat the success of the Aura HD, Tamblyn said he was unsure: "As is always the case when we bring out a new premium device, we assume that it is for that top 10% of reader that we know make up 50% of content sales, but you never know what is going to catch on."
The device comes with 4GB of internal storage, expandable by up to 32GB via a microSD card. It features a 1GHz processor, and the screen has a resolution of 265dpi.