North and South Korea have reached an agreement that should reduce tensions along the border between the two countries. The deal was made at the so-called "truce village" of Panmunjom close to the demilitarised zone (DMZ) and was announced in a joint statement between the two countries.
The surprise breakthrough came as both sides were beefing up security at the border, the most militarised in the world. North Korea has deployed submarines and landing craft in the Yellow Sea and the South has been considering an offer by the US to deploy B-52 bombers and a nuclear submarine.
As part of the peace deal, North Korea has expressed "regret" over a landmine incident in which two South Korean troops were seriously injured. The North also agreed to end its "quasi state of war" against its southern neighbours.
In return, on Wednesday (26 August) the South will dismantle loudspeakers which had been broadcasting propaganda towards the North and which it alleges were attacked by North Korean troops. The South also agreed to hold follow-up talks with the North in either Seoul or Pyongyang.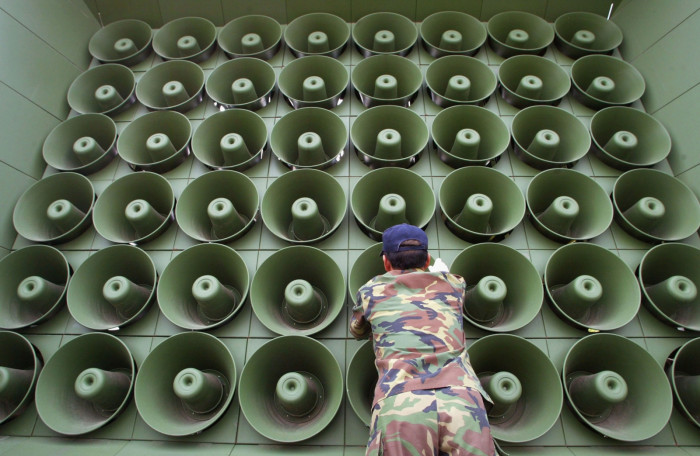 The breakthrough comes as the two countries appeared close to the point of no return. Over the weekend North Korean state media claimed one million ordinary civilians had volunteered to fight for the armed forces if there was a conflict with the South. This ratcheting up of border tensions between the two countries - both of which have amassed stockpiles of nuclear weapons - provoked nervousness around the world.
North and South Korea remain technically at war following the 1950-53 conflict which ended in an armistice rather than a truce. Since then the North has embraced a harsh brand of totalitarian Stalinism led by Kim Jong-un, son of former President Kim Jong-il and grandson of "eternal leader" Kim Il-sung. The South has embraced Capitalism and is a close ally of the United States.