Kourtney Kardashian is facing a backlash after she posed in a Cleveland Cavaliers jumper in support of sister Khloe's budding relationship with basketball player Tristan Thompson.
Khloe, 32, and Tristan, 26, recently made their romance official following the finalising of her divorce from ex Lamar Odom.
Signalling her approval for the relationship, Kourtney, 38, took to Instagram where she could be seen laying in an empty bathtub while sporting the garment emblazoned with Tristan's team name.
"Defending the land," the reality TV favourite told her 57.8m followers.
However this sentiment did not sit well with some who accused the mum-of-three of "cursing" the NBA side.
"Kourt you know damn well you ain't a Cavs fans," fumed one with another writing: "Please stop cursing the Cavs."
Agreeing, a third added: "GOD DAMNIT STOP CURSING MY TEAM."
A fourth even went so far as to claim that the entire clan were cursed as they wrote: "The fewer Kardashians involved with the Cavs the better. Your sister has changed Tristan's game."
Their appeals fell on death ears with Kourtney later joining Khloe, their mum Kris Jenner, 61, and Kourtney's children Mason, seven, and Penelope, four, who all flew to Ohio to watch Tristan play as his side took on the Golden State Warriors at Game 4 of the NBA Finals (June 9).
With the exception of Kris, they were all dressed in team colours as they cheered from the bleachers.
Despite fears, defending champions Cleveland not only won the match, they scored a finals record of 86 first-half points with the score ending 137-116.
Khloe and Tristan started dating last summer but initially kept it under wraps.
By January it was all change with Khloe revealing that she was already head over the heels in love with the 26-year-old.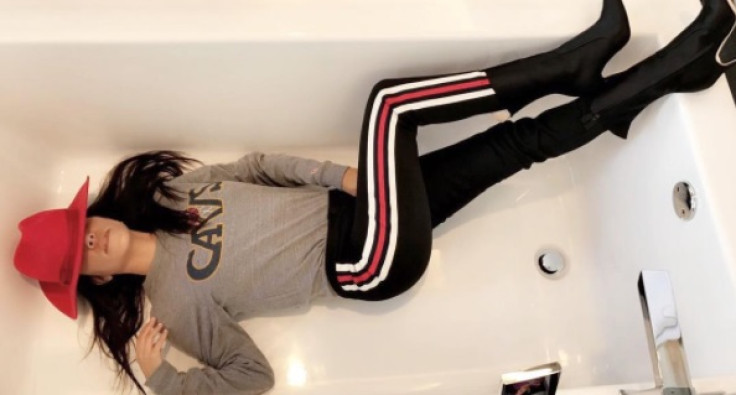 She said at the time on social media: "At this moment, a few days into 2017, I feel incredibly clear and probably the happiest I've been in years. It's such a great feeling that I have my happy back!
"It's from a genuine place and the most peaceful place I've been in for longer than I can even remember ... I think when you're in love you definitely feel happy and healthy too. I like that my relationship is very normal and doesn't need to be so publicised all the time.
"So much tough s**t has gone down in my family over the past year that I've removed myself from social media a bit more and focused on what's important in my life.
"That's not to say 2016 wasn't a good year for me because it was, but there was a lot of real s**t that happened too. If I want to be in Ohio and do nothing, then that's what I'm going to do. Life is too short and too precious to not do what makes YOU feel the happiest. (sic)"