When news emerged that Kristen Stewart would not reprise her role as the iconic fairy-tale character in the recently-released Snow White And The Huntsman sequel The Huntsman: Winter's War, many assumed that it had something to do with the 'Rupert Sanders affair' scandal surrounding the first film back in 2014. However, it was Stewart's choice not to be involved in the follow-up instalment due to not liking the draft scripts she read ahead of production.
"It wasn't a situation where I got kicked off a movie because I got in trouble," she clarified to Variety in a recent interview. "We had been in talks months after that about making something work, and it never came together.
"I read a few scripts. None of them were good. None of them were greenlight-able. And I had a meeting with Universal about the places where the story could go. Maybe Chris [Hemsworth] was more into it. I actually don't f***ing know."
Stewart went on to explain that when the studio ultimately offered her the chance to cameo in the sequel, her honest answer was: "I might just leave that be." Stewart finished the conversation of the film by joking... "so now I'm like... 'Thank God.'"
While Stewart seems to be staying away from blockbuster franchises, since starring in the hugely-popular Twilight Saga movies, the 26-year-old would be keen to return to mainstream 'Hollywood' movies if the opportunity presented itself. "I'm a kid from the valley," she said. "I love big movies that everyone sees, and I can't wait for the opportunity to f***ing nail that. It has to be [with] the right people and the right time."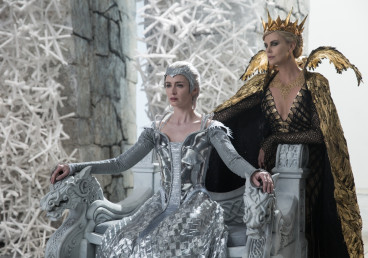 Directed by Cedric Nicolas-Troyan, The Huntsman: Winter's War acts as part-prequel, part-spin off to the 2012 film Snow White And The Huntsman. To bookend itself on either side of the original, it focuses on Charlize Theron's Queen Ravenna and her descent into evil, as she pursues her dream of staying the fairest in all the kingdom.
We see Queen Ravenna go up against her equally powerful sister Freya – played by Emily Blunt – who threatens to steal her crown and avenge a family tragedy. Hemsworth reprised his role as Eric the Huntsman while Jessica Chastain stars as Hemsworth's fellow warrior Sara.
Stewart will next be seen in Woody Allen's Café Society, the premiere of which opens the Cannes Film Festival on 11 May, and thriller Personal Shopper, also showing at the event on Tuesday 17th. She will also be seen in upcoming drama Certain Women opposite Michelle Williams, which has a 100% Rotten Tomatoes' rating following its Sundance premiere.
For more entertainment news follow A-List on Twitter @Alistinsider