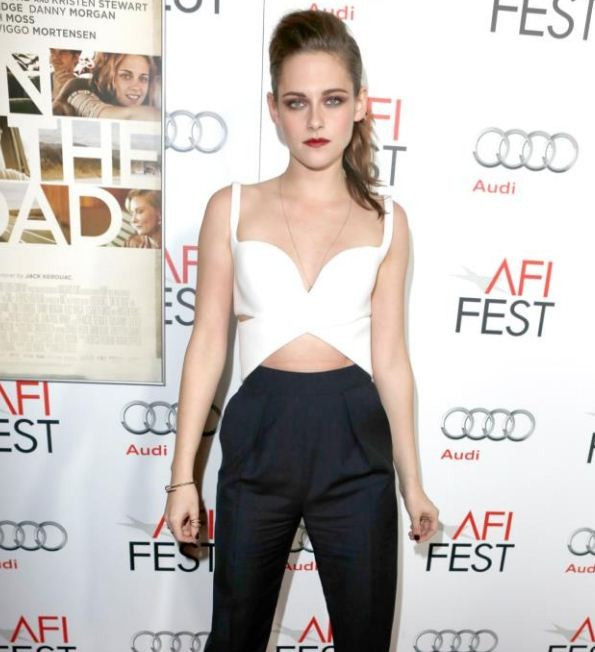 Kristen Stewart wowed fans at a screening of her film On the Road during the 2012 AFI Fest at Grauman's Chinese Theater in Hollywood.
The 22-year-old actress displayed her abs in a Balenciaga by Nicolas Ghesquière outfit and Christian Louboutin shoes. She went for nominal make-up with smoky eyes and bright red lipstick.
The movie is based on American author Jack Kerouac's classic novel of the same name and is about the years the author spent travelling across the United States with his friend Neal Cassady, and the people they met at that time. Stewart plays Marylou, the 16-year-old wife of Cassady.
Stewart recently talked to Movieline about how she landed her role in the film.
"I was 14 or 15 when I first met [director] Walter Salles," she said. "I spoke to him when I was 17, I think I may have shot the first Twilight, I'm not sure - possibly I was about to go do it. At first I was talking about playing another part, so it's been a long time coming."
Kristen said she did not know how she was able to get that kind of energy. "But to convey that I loved this thing in the way [Walter Salles] does and as soon as you get around that energy it passes between you, nothing really needs to be said. I got the job on the spot, and I drove away just vibrating. I was like, 'Are you kidding me?' Plus I was very young, I wasn't quite old enough for the part yet."
Stewart had previously dismissed concerns over her role in her new film for which she was required to do more than one nude scene.
"You can do no wrong with [director Walter Salles]," the actress told MTV, shortly after the film was screened at the Toronto International Film Festival. "He puts so much inside of you. In the four-week rehearsal process, it was okay to ask any question, to bring up any story, to really over-analyse everything and intellectualise everything."
"Once we got on set, it was so about just breathing and letting it happen. He put so much trust in us, so it was like, "Okay, so I have to take my clothes off?" It's so not a big [deal]."
The Twilight actress was joined by co-stars Amy Adams and Garrett Hedlund at the event. The 38-year-old actress opted for a Dolce & Gabbana dress and was accompanied by her partner Darren Le Gallo at the screening. The film's cast includes Viggo Mortensen, Kirsten Dunst, Steve Buscemi, Terrence Howard and Elisabeth Moss, and is set for release on 22 December.