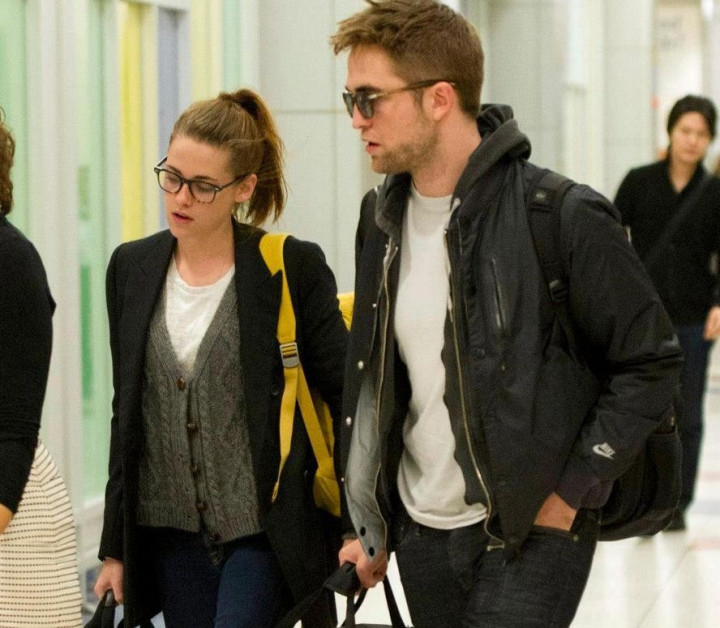 Twilight star Kristen Stewart has been spotted at JFK Airport in New York, with boyfriend and co-star Robert Pattinson. The couple were returning from celebrating Thanksgiving in London, with Pattinson's family. The 22-year-old Stewart sported a pair of stylish sunglasses and looked every bit the glamorous Hollywood star, with a macho-looking boyfriend by her side.
Stewart and Pattinson, who worked together in the Twilight series of fantasy films, are working on their personal relationship after it was revealed she had an affair with Rupert Sanders, the British director of another of her films, Snow White and the Huntsman.
Meanwhile, at least one fan of the couple, Lyndsay Gardner, was lucky enough to see the pair on the plane and tweeted this message, along with a photo of the two getting out of a taxi: "Look who's on my plane!!! Robert Pattinson and Kristen Stewart!! OMFG. No 100 percent serious we just arrived at the same time they were behind me in the line! Couldn't get a pic though up close."
Incidentally, the passenger manifest for that particular flight was star-studded; in addition to Stewart and Pattinson, it is believed (at least according to Gardner's tweets) that ex-Beatle Sir Paul McCartney was also on the flight!
The star-struck girl's next tweet read: "At Heathrow going to NY. Yeah they are but they have gone up to first class with Paul McCartney!! Really wanted a pic - might try and get one!! OMFG I can't believe that!! So excited!!! New york city here I come with Robert Pattinson and Kristen Stewart and Paul McCartney!!!"
Meanwhile, Pattinson's family has reportedly forgiven their son's girlfriend her indiscretions. And key among those pardons, it seems, were Pattinson's sisters, Victoria and Lizzie.
"It was really important for Kristen to win back the love and trust of Rob's family, and she has done just that," a source was quoted as saying, "They are all back on really good terms - even better than before. Kristen reached out to Rob's sisters and expressed how sorry she was. They are proud of how far she has come and they know she has been treating their brother like gold."
Pattinson, who plays vampire Edward Cullen in the successful film series, previously admitted his role in the series "changed everything" about his life.
"I don't even think I'd be acting if I wasn't doing this, or if I hadn't done the first one. It's crazy. The character and the whole experience combined for me," he said, "It's definitely really created something which connects to people on a very fundamental level, it's like primal.
"(The reaction) makes me feel very foreign. It's really nice, it's really nice, especially after five years. They have stuck around, they're still camping out, I respect that. It's very, very, very cold and I don't understand what kind of mental disorder you have," he concluded.
Finally, to celebrate the end of the Twilight series, check out these photographs of Pattinson and Stewart over the years...