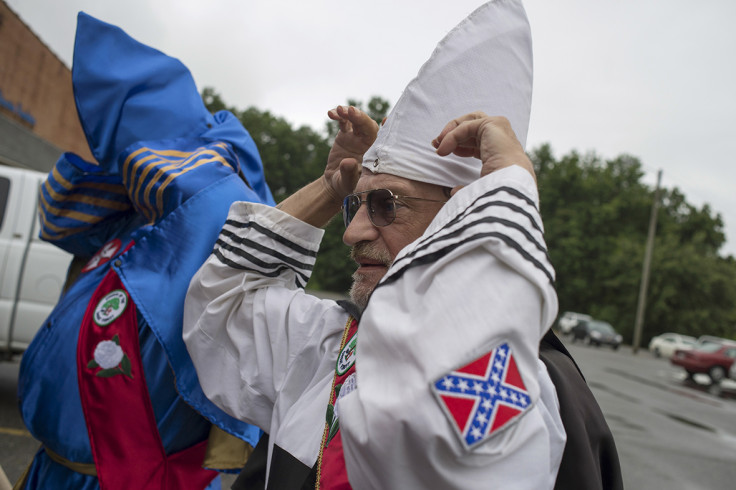 A KKK chapter and an African-American group plan demonstrations outside the South Carolina State House where the Confederate flag was removed.
The flag was removed from the State House grounds after the killing of nine African-Americans in a Charleston church last month, according to a Reuters report.
Twenty-seven years after the Ku Klux Klan last marched on the State House, members of a Pelham-based KKK branch marches again to protest the removal of the Confederate flag.
The Detroit-based Nationalist Socialist Movement, an anti-Semitic, white separatist group, is also encouraging members to attend.
Governor Nikki Haley called upon locals to boycott the gathering.
"Our family hopes the people of South Carolina will join us in staying away from the disruptive, hateful spectacle members of the Ku Klux Klan hope to create over the weekend and instead focus on what brings us together," she said on her Facebook page.
The Loyal White Knights of the Ku Klux Klan, a North Carolina-based chapter which says it is "the largest Klan in America" said around 200 people would be at the demonstration.
A voice message on the chapter's phone line said its members are "standing up for our Confederate history and all the Southerners who fought and died against federal tyranny. Our government is trying to erase white culture and our heritage right out of the pages of our history books."
A Florida group called Black Educators for Justice said they were expecting around 300 people for its rally. The group is headed up by James Evans Muhammed, a former director of the New Black Panther Party.
"The flag coming down is not progress. It is an illusion of progress," he told the State newspaper in Columbia.
The demonstrations will overlap by an hour. However, they will take place on opposite sides of the State House – the Black Educators group rallying on the north side and the Klan on the south side, said Lindsey Kremlick, a spokesperson for the SC Department of Administration.