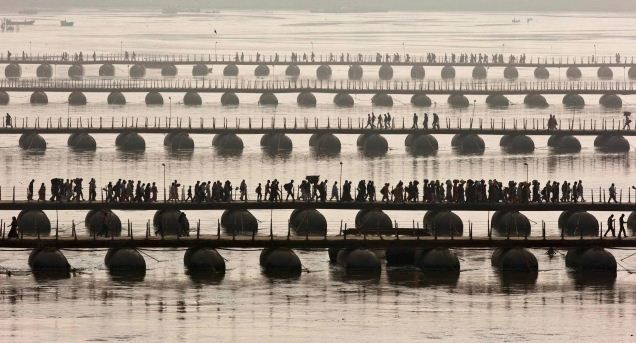 The Maha Kumbh Mela - an iconic religious and spiritual festival for Hindus - is the world's largest gathering of people for such purposes.
The Kumbh itself is held once every 12 years and the festival rotates across four cities - Allahabad, Nasik, Ujjain and Haridwar. In addition, there is also the Ardh Kumbh (the half festival), which happens once every two years.
The Maha Kumbh, though, is particularly special; this event is held only once every 144 years and only in the city of Allahabad... and the 2013 Kumbh is a Maha Kumbh Mela. The festival opened on 14 January, and runs for 55 days.
The sheer scale and size of the Maha Kumbh, which is expected to draw more than 100 million people to the banks of the Ganges, has attracted interest from the unlikeliest of places - the United States' Harvard University.
Specifically, six of the prestigious institution's departments - the Faculty of Arts and Sciences (FAS), the Harvard Divinity School, the Harvard Graduate School of Design, the Harvard Business School, the Harvard Medical School and the Harvard School of Public Health have travelled to India to understand the Kumbh phenomenon, for a project entitled Mapping India's Kumbh Mela.
A statement on the South Asia Institute's website explains the academic interest in the Kumbh Mela:
"A temporary city is created every 12 years in Allahabad to house the Kumbh Mela's many pilgrims. This city is laid out on a grid, constructed and deconstructed within a matter of weeks; within the grid, multiple aspects of contemporary urbanism come to fruition, including spatial zoning, an electricity grid, food and water distribution, physical infrastructure construction, mass vaccinations, public gathering spaces, and nighttime social events."
"This is probably the first time that Harvard is doing something like this, where we've pulled together four different disciplines in a way that all faculty and students are going to be together to look at a phenomenon," Meena Hewett, the associate director of the institute, said in a statement.
"There's no doubt that the mela is an incredible, even astonishing, human undertaking. Just the organisational logistics involved in managing so many people over a few months in one spot is tremendous. Our project seeks to understand this unique phenomenon better," Diana Eck, a key faculty member associated with the project, said.
Eck will also examine various rituals, groupings and traditions as well as the environmental awareness she terms "Green Kumbh".
What is the Kumbh Mela?
According to Hindu mythology, Vishnu (the second of the primary trinity of gods; the third being Brahma) once fought the demons for a golden pot containing the elixir of life. During combat, the pot was jolted and four drops of the nectar fell on Earth, in the four cities where the Kumbh festival has been held for centuries.
For more details about the festival, visit the event's official website.
Check out photographs of the 2013 Maha Kumbh Mela