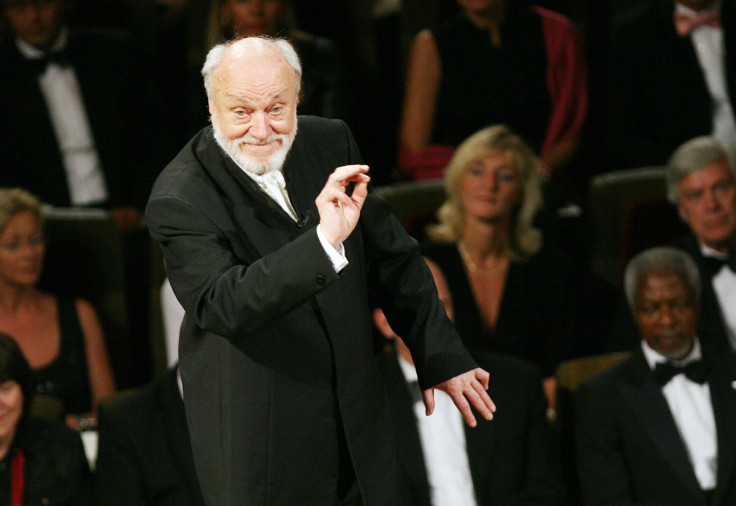 German conductor Kurt Masur, who was the former music director of the New York Philharmonic orchestra, died on 19 December at the age of 88. According to a statement from the orchestra, he was receiving treatment at a hospital in Greenwich, Connecticut, following complications from Parkinson's disease.
Paying tribute to the conductor, the New York Philharmonic praised Masur's "profound belief in music".
Philharmonic President Matthew VanBesien announced Masur's death in a statement on Saturday, saying, "It is with the deepest sadness that I write on behalf of the Masur family and the New York Philharmonic that Kurt Masur — our inspiring music director, 1991-2002, and music director emeritus — passed away."
Masur joined the New York Philharmonic in 1991. Critics said he was responsible for drastically improving the standard of performances by the orchestra, after the 13-year leadership of Zubin Mehta.
"Masur's years at the New York Philharmonic represent one of its golden eras, in which music-making was infused with commitment and devotion, with the belief in the power of music to bring humanity closer together," Alan Gilbert, the outgoing music director, said in a statement. "The ethical and moral dimensions that he brought to his conducting are still palpable in the musicians' playing, and I, along with the Philharmonic's audiences, have much to thank him for," he added.
In 2002, Masur was forced to step down from his position following a power struggle with then-executive director Deborah Borda and was succeeded by Loren Maazel. After his departure, the New York Philarmonic created the role of music director emeritus for Masur.
European in New York
Prior to working with the New York Philharmonic, Masur worked predominantly in Europe and was known especially for his knowledge of German classical music.
Having started his musical career during the Cold War, he played a role in the revolt against East German communism which started in 1989. He worked to help street musicians who were regularly being arrested for not having proper permits and licences.
When pro-democracy demonstrations began in Leipzig's Karl-Marx-Platz were threatening to turn violent, Masur invited the armed police and demonstrators to hold talks at the Gewandhaus concert hall instead. He even recorded a message urging people to refrain from turning to violence, which was played on radio stations and on loud speakers. His message was well-heeded and talks managed to take place without violent outbreaks and blood shed.
German President Joachim Gauck paid tribute on the occasion of Masur's death saying, "We have lost a great conductor and extraordinary man. Many people will never forget how he campaigned in the autumn of 1989 for structural change in the German Democratic Republic, for people's freedom and for democracy."
Masur is survived by his third wife, Tomoko Sakurai, a soprano from Japan, and five children.
New York Philharmonic plans to dedicate a performance of Handel's Messiah to the Masur on 20 December.