LA Cop Filmed Punching Woman on Street in Shocking Arrest Video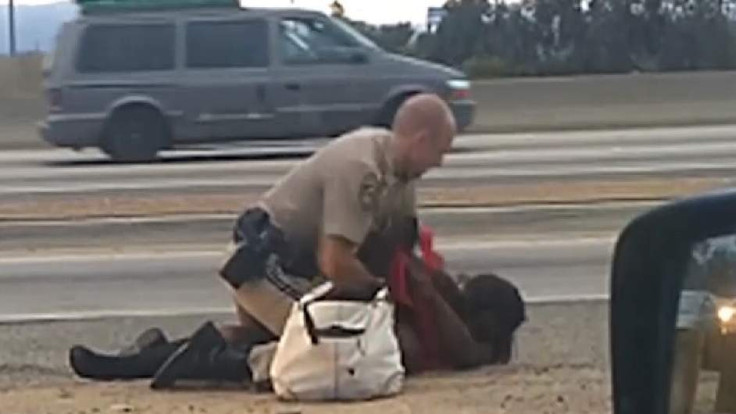 A California police officer is under investigation after he was filmed repeatedly punching a woman in the face on a Los Angeles road.
An onlooker in a passing car captured the shocking confrontation and uploaded the clip, entitled "Police Brutality?" to YouTube.
The footage shows the officer on foot, crossing a busy dual carriageway as he approached the woman walking across the central reservation.
He is seen pinning her to the ground on the grassy strip after which he delivered several blows to her face as she lies flat on her back.
The California Highway Patrol (CHP) said in a statement to KABC-TV that the officer had ordered the pedestrian to stop, but she refused to comply.
He then tried to place her under arrest because he feared she might be hurt crossing the lanes of traffic.
"A physical altercation ensued as the pedestrian continued to resist arrest, at which point a plain clothes, off-duty officer assisted in applying the handcuffs," the CHP statement said.
David Diaz, who witnessed the incident and shot the video, said he believed the action taken against the women was excessive and inappropriate.
He told KABC-TV: "There was no weapons, it's obviously excess force at this point. He could have easily calmed her down. You can use strength without punching."
The agency said that as a matter of procedure there would be an investigation to establish whether the use of force had been appropriate.
The woman was reportedly taken to a hospital for physical and mental evaluation.
The incident comes after footage this week also emerged of a policeman in Indiana pushing over a man in a wheelchair.
© Copyright IBTimes 2023. All rights reserved.