Police have released horrifying footage of the fatal shooting of a homeless man on the streets of Los Angeles.
Charly "Africa" Keunang, 43, was controversially gunned down in March 2015 in a high-profile case that for many highlighted the callous way black men, the homeless and the mentally ill are treated by the police.
Footage at the time was posted online by a passer-by and seen by millions at the time.
But this week the police for the first time their released their own body camera footage, taken by two of the officers at the incident.
The move comes as an unlawful death suit by the Keunang family progresses through the US courts.
In the new footage police officers Francisco Martinez, Sergeant Chand Syed and Daniel Torres approach Keunang while responding to a report of an attempted robbery. They are aware they there have been recent reports about the homeless man threatening someone with a baseball bat.
In the video, Martinez can be heard questioning Keunang outside his tent.
"Listen, listen," Keunang says.
Martinez responds: "No, no. It doesn't work like that."
Police warn Keunang he will be tasered if he doesn't cooperate.
Keunang says: "Let me express myself."
Martinez repeatedly tells Keunang to stand against a nearby wall. But the homeless man instead goes back inside his tent shouting at the officers: "Leave me alone."
Police open the tent and order Keunang outside.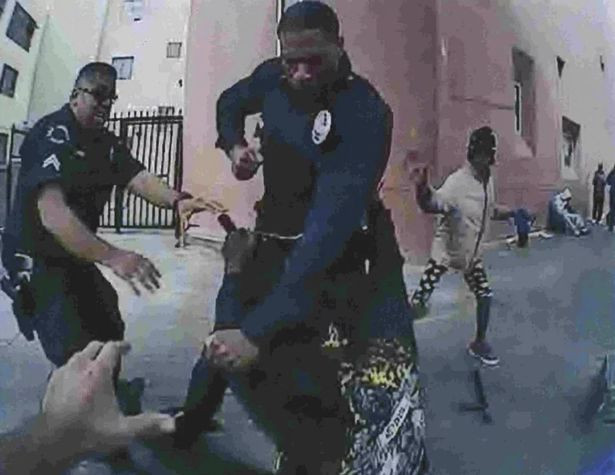 As Keunang stands, Martinez appears to fire the Taser. The homeless man uneasily circles toward the police. The men grabble and fall to the ground.
"Stop resisting!" an officer shouts. Moments later another officer says: "He's got my gun!"
The first gunshot can then be heard, followed by a scream from Keunang. Syed fires next. Martinez also shots at Keunang, and so does Torres.
The LAPD also released two enhanced images from the video this week, claiming it showed Keunang's hand on an officer's gun.
LAPD Chief Charlie Beck told the Los Angeles Times: "When you watch that video in real-time, it is difficult to see the suspect's hand on the officer's gun. But when you slow it down, frame by frame, it is quite easy to see."
But the lawyer for the Keunang family maintain the officer acted unlawfully.
Attorney Joshua Piovia-Scott said: "This was a cop-created killing. This did not need to happen. And the reason it did happen is because of the conduct of these officers."
Peter Bibring, a lawyer at the American Civil Liberties Union of Southern California said the police should not have kept this footage away from the public for so long.
Bibring said: "There's nothing on this tape that justifies keeping it secret. The public has a right to know what happens when a police officer, who's paid with public money, kills somebody. It's absurd that it took this long."