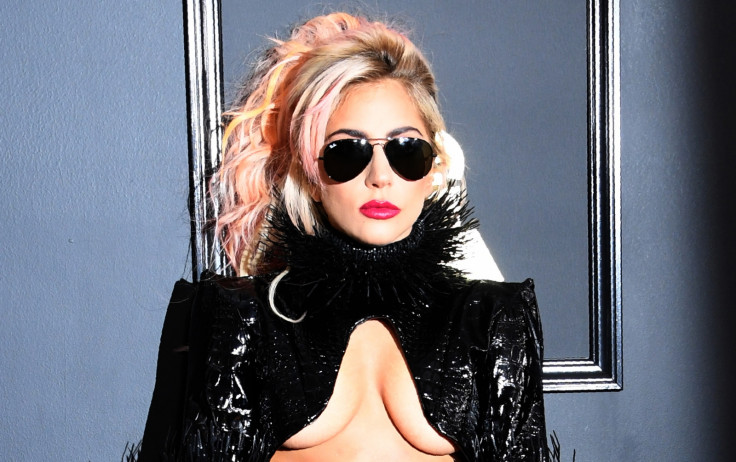 American pop star Lady Gaga is the latest one to join the celebrity bandwagon of flashing some skin on the internet. Taking to Instagram on Monday (10 July), the Bad Romance hitmaker shared a topless snap, flaunting her flawless curves and a fierce look.
The 31-year-old singer channelled her inner supermodel for the image - folding her hands behind her head and letting her scarlet pout do all the talking. While the photo appears to show Lady Gaga almost nude above the waistline, she strategically grabbed a white "Supreme" bag by the teeth, in the process, hiding her modesty from the lenses.
Gaga's feisty look was complete with blood-red manicure and dramatic eye make-up, which she paired with a chunk of statement jewellery – mostly neckpieces.
Although the songstress seemingly gave a miss to her shirt, she maintained the drama in the promotional picture by wearing black underwear and rigged fishnet stockings underneath. And all along, Gaga's numerous tattoos were also on display.
"Oh God bring us back during this era an iconic one I miss that," one fan commented gushing about the classic pop art image. Soon, many others too flocked to the picture-sharing site to admire the snap that could very well remind one of Madonna's rebellious phases.
"I was in love with these photoshoots," a second user shared, while another added reminiscing, "I remember when you took this photo."
The image sparked all sorts of reactions from the fans, with some talking about the "gorgeous piece of art" while other commented on Gaga's bag – that seemed to be a high-end Birkin product.
"Please tell me you are not holding a white birkin with your teeth while wearing red lipstick... I might cry," a fan shared.