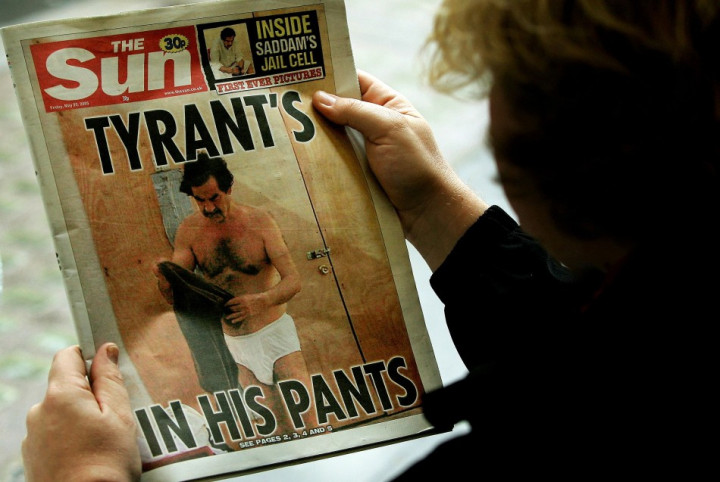 Labour MP Chris Bryant has told parliament he believes a laptop that contained evidence a photograph of Saddam Hussein in his underwear was obtained illegally has been destroyed.
Bryant, speaking under parliamentary privilege, also claimed that Rupert Murdoch's News Corp paid a US soldier a "substantial sum" to obtain the pictures of the former Iraqi dictator, which appeared on the front pages of The Sun and the New York Post.
The MP said it was "difficult to see" how the editors of both papers could pretend that they did not know how that material was obtained. He stressed that criminality was involved in the process of securing the photo.
Bryant was talking during a House of Commons debate on the Leveson Inquiry. Prime Minister David Cameron has urged newspaper editors to quickly set up an independent regulator in the wake of the Leveson report's findings.
Bryant added: "For that matter, they could not possibly pretend not to know that the laptop on which the information and the photograph were kept was destroyed. believe it was destroyed so as to destroy the evidence of the criminality."
Bryant also said he had information from News International sources who claimed the newspapers paid "a substantial sum to a serving member of the United States armed forces in the United States of America for a photograph of Saddam Hussein". He added that "a much larger amount was then paid via a specially set up account in the United Kingdom" to the same source.
The photographs were both published in May 2005.
Former US president George Bush ordered an investigation into how The Sun and the Post obtained the photos, but never found the source of the leak.
News Corp has never denied paying for the images, with The Sun's managing editor at the time Graham Dudman saying the paper had paid a "small cost" for the photo. However, The Daily Beast is reporting the paper paid in excess of $100,000 (£62,000) for the photograph.
The Murdoch-owned company maintains that the photos were in the public interest.
A spokesman for News Corp said: "We didn't believe then, and certainly don't believe now, that it was wrong to acquire and publish newsworthy photographs of a notorious war criminal."
In the past year, 21 current and former Sun journalists and senior newsroom executives have been arrested as part of Operation Elveden, which is investigating alleged inappropriate payment for stories.