Scores of protesters marched through Chicago streets as soon as the dash cam video showing a white police officer shooting black teenager Laquan McDonald was released. Dozens of campaigners were seen outside the Chicago police station condemning the brazen act.
Demonstrations had started prior to the release of the graphic footage but it gathered momentum after the recording surfaced. In the video -- released by city officials -- the 17-year-old can be seen being shot 16 times by police officer Jason Van Dyke. The shooting took place in October 2014.
Although the number of protesters fell by around 10.00pm local time, more protests were expected to take place in the coming days. Demonstrators were shouting slogans like "I am Laquan" and "No Justice, No Peace" during the protest march.
Chicago Mayor Rahm Emanuel has appealed for calm saying: "I believe this is a moment that can build bridges of understanding rather than become a barrier of misunderstanding. I understand that the people will be upset and will want to protest when they see this video. We as a city must rise to this moment."
Speaking to reporters, activist Fresco Steez of Black Youth Project 100 asked the media to be aware of protesters' "raw" emotions. "Tonight, what we're having is another instance of a killing, a public lynching of another young black man, so we're asking you to give us some space to process our feeling around that. ... Their feelings might be raw."
The footage was released after a judge ordered authorities to do so before Wednesday (25 November).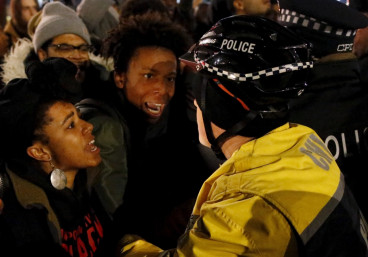 Meanwhile, dozens of black activists were seen shouting "16 times" referring to the number of shots fired at McDonald by the police officer. Subsequently, reports suggested that police arrested some people at the scene of protests, but the numbers were unclear.
"It's a good start that they have charged the police officer, but we've clearly reached the point where something needs to change," 33-year-old Monique Winegard, who took part in the march, told Reuters.
Van Dyke remained on payroll until 24 November, but was stripped of police powers. He is the first officer in Chicago to be charged with an on-duty murder in decades.
Chicago Police Superintendent Garry McCarthy acknowledged the situation saying: "People have a right to be angry, people have a right to protest, people have a right to free speech. But they do not have a right to commit criminal acts."