Federal authorities and the FBI are conducting a joint investigation into the 2014 death of a Chicago teenager, who was shot 16 times and killed by local police, the US Attorney's Office announced on 13 April.
Laquan McDonald was followed by Chicago police officers for nearly half a mile after allegedly attempting to break into vehicles in a trucking yard. According to the Chicago Tribune, the 17-year-old was met by several squad cars as he refused to cooperate with police. He allegedly punctured one of the squad car's tires and struck the windshield with his knife.
McDonald was then shot 16 times and killed near West 41st Street and South Pulaski Road.
Slate reported that details about McDonald's death were not known until the post-mortem examination results were made public in February. A spokesman for the Chicago police superintendent told Slate that the unnamed officer who killed McDonald was stripped of police powers and placed on desk duty during the investigation.
The examinationrevealed that McDonald suffered injuries to his chest, neck, back, arms and right leg.
City Corporation Counsel Stephen Patton told reporters that the officer claimed he feared for his life after McDonald allegedly lunged towards him with a knife. However, lawyers for McDonald have noted that none of the other five officers shot at the teen.
A statement released by US Attorney Zachary Fardon revealed the joint investigation will be led by the Chicago Office of the Federal Bureau of Investigation along with the Independent Police Review Authority, the US Attorney's Office and the Cook County State's Attorney's Office.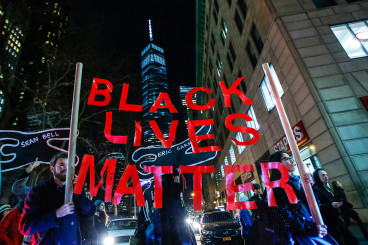 The FBI's investigation into McDonald's death comes on the heels of several incidents involving police lethal force leading to the death of black men. Last week, a video showing the killing of Walter Scott in South Carolina by police led to national outcry.
According to the Chicago Tribune, Patton announced the FBI's probe and recommended to the City Council's Finance Committee to pay a $5m (£3.38m) settlement to McDonald's mother. City Council will take up the settlement issue, which was also endorsed by the Finance Committee, on 15 April.
Patton also revealed that the McDonald family initially sought $16m (£10.82m).