The Last Guardian: First hands-on preview reveals new gameplay details and confirms 2016 release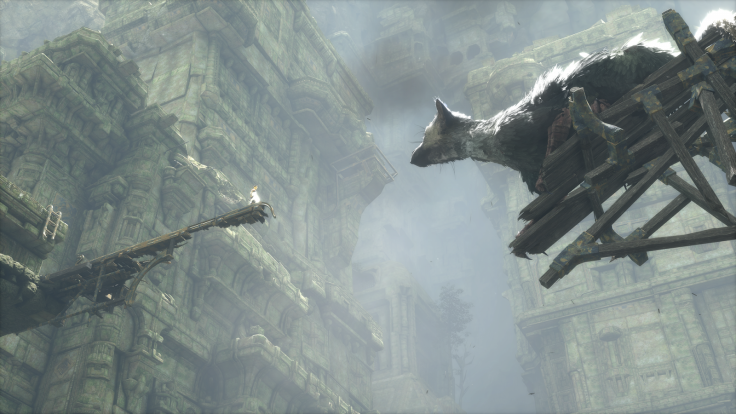 It has been nearly a year since Sony re-introduced The Last Guardian, Fumito Ueda's long-suffering follow-up to PS2 classics Ico and Shadow of the Colossus. Now, as we approach E3 2016, Edge Magazine has published the first hands-on preview of the game – revealing new gameplay details and confirming that the game will still release this year.
Issue 294's cover story includes impressions from an early portion of the game, an interview with Ueda, and discusses at length the game's star – the enormous feathered, cat-like creature called Trico, that accompanies the player's diminutive protagonist.
In an accompanying Q&A with Ueda, the legendary designer says: "Since this is the year we will see the game's release, I do have some worries, but I'm also very excited."
The preview details a new gameplay mechanic, in which the human boy character wields a mirrored shield. "Holding circle 'illuminates' the device," states the article, "shining what is ostensibly an ornate crosshair onto any surface it's aimed at... [Trico] can fire a devastating beam of red lightning from its tail, and will direct this power wherever we point the mirrored shield."
In the demo Edge were shown, this attack was used for environmental puzzles – "one involving the destruction of a rock face, the other the disintegration of a wooden wall" – but Edge wonders whether it will be used against the armoured, enemy characters seen on the extended magazine's cover.
Back to The Last Guardian's biggest star, Trico is "one of the most striking video game presences in recent years," reads the article, but one who may be as "divisive" as Ico's Yorda, who "irritated as many players as she charmed." It is a "free-spirited creature that flagrantly disregards your attempts to tame it" - which prompted a question to Ueda about whether this may annoy players.
"It would be a lie to stay that I have no worries," says the legendary game designer, "but another game where you can completely control a creature wouldn't be enjoyable for me because there are a lot out there where you can do that. I think I've had enough of them."
The article later states that as the game progresses, and Trico and the boy's relationship strengthens, the creature will become more responsive to player requests. It also reveals that Trico's eyes will change colour to reflect its mood: "a pink tinge denotes wariness and anger, for example."
Trico is described as a powerful creature, but one that's timid and nervous in its nature. "One area a little later in the demo sees us emerge high up from the wall of a huge cave that holds an underground lake. We immediately take the opportunity to leap into the clear water below, diving underneath the surface and exploring the muffled underwater world for a time. On resurfacing, we find Trico timidly pawing at the edge of the drop, refusing to jump. It is, after all, part cat."
Ueda says of Trico: "This creature isn't like the cute pets that exist in other games, or an ally that's really useful. The role of the creature is ambiguous; that's something we wanted to express in the game, and it doesn't always do what you ask it to do. That's one of the themes of The Last Guardian. It's something that's difficult, and completely different. I want to create the next thing - an experience that people have never had before.
"The amount of code is very large compared to AI in conventional games. We've given this creature its own desires, so depending on what action it wants to take, that affects everything, including its animation. It's not like a normal humanoid character."
The Last Guardian has been in the works for over eight years, spending most of that in the ether of uncertainty. Until it's re-introduction at E3 2015, many assumed the game was dead in the water. Asked about this, Ueda told Edge: "It was quite difficult for me to keep my motivation up. But my other games have also had long development periods, so in that sense, I think I've been able to keep my motivation quite high."
The brilliant full feature also includes discussion of the game's hand drawn animations for both Trico and the boy. The magazine is in UK stores now.
For all the latest video game news follow us on Twitter @IBTGamesUK
© Copyright IBTimes 2023. All rights reserved.