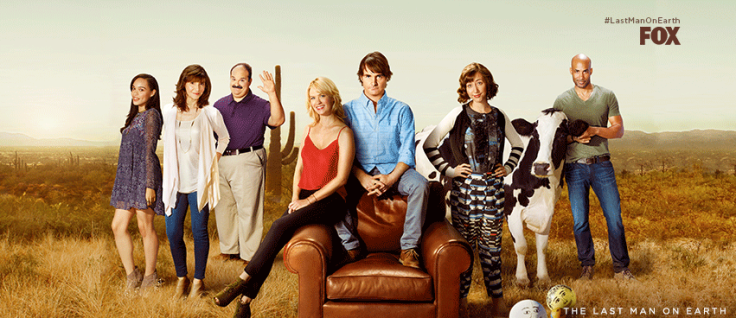 Fox's comedy series, The Last Man on Earth season 2, will return on 27 September.
In the final minutes of the finale, we watched as Phil, Tandy (Will Forte) was banished by New Phil (Boris Kodjoe), who dumped him on a lonely desert road with only two days of supplies.
Luckily, Carol (Kristen Schaal) arrived with more snacks, and joined him on his new adventure. But the finale twist was that Tandy Phil's brother (played by Jason Sudeikis) was alive in space and floating around on a spacecraft trying to contact anyone back on Earth. The finale concluded with him gazing out of the window at our planet.
The Last Man on Earth Actor and Executive Producer Will Forte and his co-stars Kristen Schaal, January Jones, alongside Executive Producer Chris Miller, appeared at SDCC 2015 to tease the upcoming second season of the hit comedy.
Here are a few things we learned post SDCC 2015:
1. Phil's brother will return from space: Season 2 will see the return of Jason Sudeikis's character that appeared briefly in the pilot episode and then again in the season finale as Phil's brother in space.
Jason Sudeikis will play a part in the upcoming season. When asked if he would be in space, Forte teased: "Maybe. [It] might be flashbacks."
Speaking about his on-screen brother, Forte hinted: "I don't see him being up in space forever. He used to live in Tucson as well, so it seems natural that he might try to go back and see what's going on with his hometown."
2. A bearded Phil: Will Forte appeared on the panel with his beard on, which implies his character will be seen again with a beard. "The beard is definitely coming back," said Forte, adding that Phil would go back to being Phil "for the time being" after briefly going by the name Tandy.
3. More surprises coming:The upcoming second season will also see the group "moving away from Tucson", teased Forte. "We're going to try to keep surprises coming. I think part of the fun of last season was introducing all these characters, and I think people now think every couple of episodes there will be an introduction of a character and that might still be the case, that might not."
4. A challenging season 2:Because of the "open-ended" season one finale, Forte revealed the writing process has been challenging for season two. It's almost like we're writing a new show so that's been tricky. Because there are just so many ways you could go with. We have our path now, and we're excited. We're trying to find new ways to change the dynamic and keep people guessing."
5. Phil and Carol: When asked about Phil and Carol's whereabouts, Will Forte told Entertainment Weekly: "Phil is not allowed on the cul-de-sac right now. It is entirely possible that Phil and Carol could be living somewhere else for the whole season, and we're checking in on the different people. But I would think that they would somehow rendezvous at some point earlier in the season."