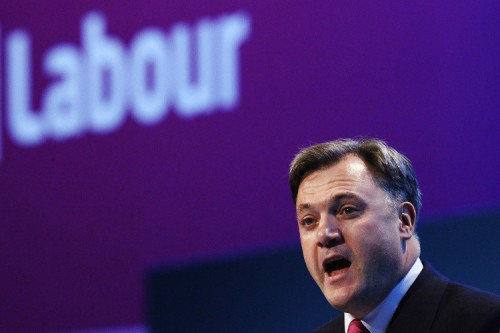 Ed Balls: 50p Tax Rate is Temporary
Ed Balls has said the 50p top rate of income tax for those earning over £150,000 is only a temporary measure. The move has sparked criticism that Labour is anti-business and the party is returning to its previous days of penalising the rich. However, Balls has defended his policy saying it is suitable at a time of austerity. He stated he wanted "lower tax rates" but argued the 45p rate would be unwise. He has dismissed comments that Labour is returning back to its old policies, saying "it is absolutely not the 1980s and 1990s".
Teenage Boy Sectioned Over Death of Girl
A boy arrested on suspicion of the murder of a 17-year-old girl has been sectioned under the Mental Health Act. According to police, the 16-year-old suspect has been moved to a secure hospital while on police bail. The Surrey and Sussex Crime Team launched a murder investigation after the girl's body was found at an address in Oxted in Surrey on Friday afternoon. It is believed the suspect and the victim knew each other. A spokeswoman said: "We believe this is an isolated incident and that there is no risk to the further community. I would like to thank the community of Oxted who have assisted with the investigation so far."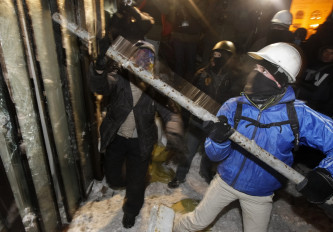 Ukraine Justice Minister Warns Protesters Over State of Emergency
Olena Lukash, Ukraine's justice minister, has warned anti-government protesters she will call for a state of emergency if they do not leave her ministry. Speaking to local media, she stated she would ask the National Security and Defence Council to implement the procedures. Disorder is continuing across Ukraine as demonstrations have spread to public buildings in around 10 cities. It is typically areas with close ties to Russia that have been affected, where President Viktor Yanukovych has received support.
Church bought from queen for £1
A 12th century church on the banks of the River Wye in Gloucestershire has been bought from the Queen for just £1. It has pre-Norman origins and has been abandoned for 150 years since the residents of the hamlet of Lancaut left in 1865. Previously, the area had around ten houses in 1306. St James's Church was bought by the Forest of Dean Buildings Preservation Trust, which plans to spend £50,000 to restore the ancient building. Jim Chapman, chairman of the trust, said: "The church authorities sold it to Gloucestershire Heritage Trust, but for some reason that disbanded, so ownership was lost and it all reverted back to the Crown. We had to go through an old feudal system of how the Queen gave away her land to the noblemen at the time and we had to petition the Queen to create a new title to this church."
Justin Bieber Won't Face DUI or Drag Racing Charges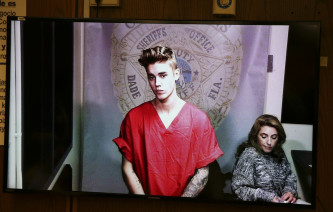 Pop star Justin Bieber will not face charges for his arrest last week, it has been revealed. The 19-year-old was arrested for driving under influence and drag racing, yet he will only be charged for resisting arrest. According to online Miami state records, he flew out of Miami after being released from jail on a $2,500 bond. The Miami-Dade County Clerks website only lists "resisting arrest" as a charge.
German Pensioner Flushes Lottery Winnings Down the Toilet
A 63-year-old who won £330,000 on the national lottery ripped up her winnings and flushed them down the toilet, after downing five bottles of champagne. Angela Maier, from Essen, Germany, apparently disposed of her money after opening a letter containing a bill for her husband's medical expenses, after he passed away in a care home. Drunk and angry, she flushed the cash to avoid having it taken from her. However, a court has stated Ms Maier may have made the story up to avoid paying the bills, although they stated this would be difficult to prove.