Police in the Philippines killed the leader of an Islamist group allegedly linked to the Islamic State (Isis) on Wednesday (5 January 2017).
Jaafar Maguid, leader of the Ansar al Khilafah militant group, died in a shootout after resisting arrest at a beach resort in the southern Sarangani province's Kiamba town. Three of his followers were arrested.
The authorities believe the group had orchestrated a string of attacks, including a grenade explosion that killed a police officer and injured dozens of people, as well as recruiting minors into the group's ranks. In August, the police seized two rifles and an IS-style black flag after clashing with the militants, killing three of them.
"He's wanted for bombing incidents. They use improvised explosive devices, killing people at town festivals," chief superintendent Cedric Train told AFP. "They fly the Isis flag in their camps. They want to be recognised by Isis," he added.
The government is now preparing for potential repercussions following the death of the leader, known by his nickname of 'Commander Tokboy'. "They might retaliate so we have to double our preparations," said interior secretary Ismael Sueno, citing large Catholic religious festivals in the Philippines this month.
Several militant groups have pledged allegiance to Isis in the southern island group of Mindanao, which hosts a large Filipino Muslim minority in the otherwise Catholic-majority country. Authorities doubt there is direct collaboration between the Filipino groups and the militants in Iraq and Syria, the Associated Press reported.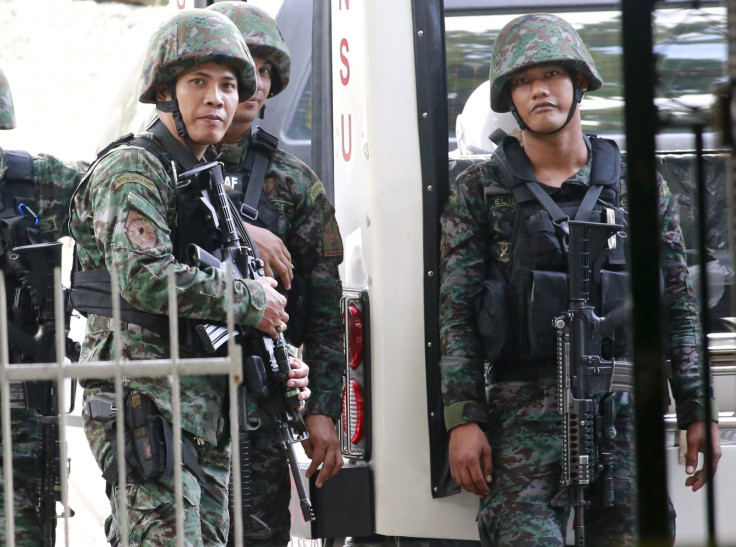 Islamist groups are suspected to be behind one of the biggest jail breaks in the country, more than 150 inmates escaped from a prison in North Cotabato after 100 gunmen attacked the prison killing one guard, in the early hours of 4 January. Authorities have recaptured 34 of the fugitives.
In a recent interview, President Rodrigo Duterte attributed the recent bomb blasts in the country to Isis-affiliated groups. "Isis seems to be everywhere," Duterte said, noting that the Syria and Iraq-based jihadists were behind the recent Christmas Eve bombing in Midsayap in the province of Cotabato, as well as the blast that rocked a night market in his hometown of Davao in September. He has, however, blamed a double-bombing at a boxing match during a Catholic festivity in Leyte province's Hilongos town in December on drugs feud.
In the same interview, Duterte revealed that some of his family members could be associated with local militant groups that have pledged allegiance to IS. He reassured the public he'd take action against them if they ever happened to meet.
The country's leader is known for his tough talking and even tougher acting, recently claiming to having personally killed criminals during his time of mayor of Davao. In the six months since he was elected, more than 6,000 people suspected of being drug dealers have been killed in the streets of the Philippines as part of Duterte-approved "war on drugs".