At least 55 people were killed and 575 were left injured after an overloaded passenger train in Cameroon derailed on Friday (21 October), the government said. Authorities also added that fourteen people remained trapped under the wreckage.
Government spokesman Issa Tchiroma said that the injured could not be evacuated until rail travel was re-established and added that the death toll was expected to rise.
According to an AP report, the accident occurred early morning near the train station in the town of Eseka when the Camrail inter-city train was travelling from the capital city of Yaounde to the port city of Douala. Eseka is around 120 km (75 miles) west of the capital.
"There are the bodies of women, children. There are many," one employee of Camrail, which is operated by France's Bollore, speaking from the scene of the accident, said. He added that the victims include three of the employees of the rail service.
A passenger, Rachelle Paden, told Reuters, that rescue workers have arrived at the accident site "and they are pulling bodies from the wagon. I've already counted around 40 bodies they've removed".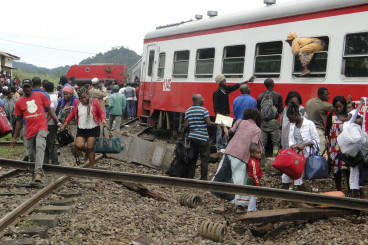 A Reuters journalist travelling in a wagon near the front of the train said, "There was a loud noise. I looked back and the wagons behind us left the rails and started rolling over and over. There was a lot of smoke."
The journalist added that before the train's departure, additional wagons were attached to it to accommodate extra passengers. The train's usual capacity is around 600 passengers, however, on Friday it was carrying at least 1, 300 people – believed to be the possible reason of the accident.
Health Minister Andre Mama Fouda came to the accident site to monitor the rescue operation. He urged medical staff from neighbouring towns to come and help the victims and said that the government would take care of the injured.