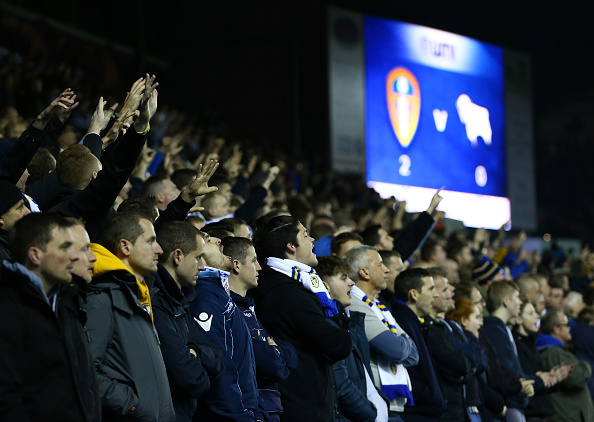 Leeds United fans became "extremely aggressive" after their side's 2-1 defeat to Blackburn Rovers at Ewood Park, sparking a police hunt for suspected hooligans.
Lancashire Police have released CCTV images of men they are seeking after a minority of fans allgedly took out their frustration on police.
Fans tried kicking police dogs and pulling officers' batons after the Championship clash on November 22.
A post-match investigation was launched and officers have identified a number of men they would like to speak to in connection with the incident.

Detective Sergeant Eric Halford of Lancashire police said:
"Several thousand Leeds fans attended the match and the vast majority of fans were good spirited and well behaved. The incidents in question were very clearly down to a small section of the travelling Leeds supporters who took it upon themselves to target their anger at the police.
"Some of the individuals were acting in an extremely aggressive manner, trying to kick police dogs and pull officers' batons. Fortunately, incidents like this are very rare but when they do occur we take a zero tolerance approach. We cannot afford to let the actions of a minority spoil games like these for the true fans and to behave like this towards the police is wholly unacceptable.
"People need to know that if they come to Lancashire and cause trouble in this way we will go out of our way to ensure they are brought to justice so that we can maintain the safety of the attending families, supporters and our officers.
"If anyone has any information about the incident or recognises any of the six men pictured in the CCTV images I would urge them to contact us."
Anyone with information can contact DS Halford direct on 01254 353562 or Lancashire Police on 101 quoting incident reference LC-20141122-0444.
Alternatively, they can contact Crimestoppers anonymously on 0800 555 111 or online at Crimestoppers-uk.org. No personal details are taken, information is not traced or recorded and you will not go to court