Nintendo has detailed what will be included in the first of two batches of DLC that will be released for instant classic The Legend of Zelda: Breath of the Wild on Wii U and the new Nintendo Switch console.
The new features, detailed on the Legend of Zelda site, will be released as a single pack sometime this summer. These features range from a new hard mode to outfits, masks and an extra function for the map.
Perhaps the most substantial new feature is the "Trial of the Sword", a huge, wave-based challenge located somewhere in Hyrule that challenges the player with an onslaught of enemies through a succession of rooms.
"Clear all the trials (about 45 rooms in total), and the true power of the Master Sword will be awakened, and it will always be in its glowing powered-up state while usable," reads the website.
A new hard mode does what it says on the tin, granting enemies regenerating health, replacing lower-powered enemies with tougher opponents and even putting goblins and other threats on floating platforms around Hyrule.
"Hero's Path Mode" adds a new feature to the map that tracks the player's movements over the previous 200 hours of gameplay. For most, this means a look at everywhere they've so far been in the game, but it'll also show you where you are yet to explore fully.
A new item called the "Travel Medallion" will also be added to the game, which allows players to create their own fast-travel point (just the one at a time) anywhere on the map. The Medallion is located in a chest somewhere on the map.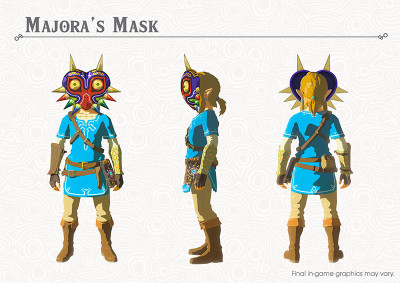 Two new outfits and three masks (above) are also being added to the map as well. The outfits, which will be split into three parts in three separate treasure chests, are based on the Phantom guards from Wind Waker and series regular Tingle.
One of the new masks is, predictably, Majora's Mask. The other is Midna's from Twilight Princess. It's not clear if either of them will impact gameplay at all. The final mask will, however. The Korok Mask will shake whenever Link is near a hidden Korok, of which there are 900 in the enormous game.
The DLC will be available to those who own the Breath of the Wild expansion pass, which costs £17.99.
The second DLC pack, which will be released in the build-up to Christmas, will add "new challenges that will let players enjoy a new dungeon and a new original story".
For all the latest video game news follow us on Twitter @IBTGamesUK.