Here's what pro Call of Duty players want from 2017's Call of Duty: WW2
MarkyB, shAnE, wuskin and eSports caster Momo talk to IBTimes UK.
The biggest change to the Call of Duty (COD) formula for three years is upon us. Jetpacks and futuristic gadgets are history, as we head back to the horrific historical setting of World War 2 for the next iteration in the franchise.
Boots will be firmly on the ground, and while we don't know that much about the multiplayer side of things, we can be pretty certain that Call of Duty: WW2 will be a return to the classic, slower-paced style of combat of a few years prior.
This has got a lot of people very excited. Many have felt a disappointed by recent COD titles and a refresh is just what the series needed. Jetpacks and wall-running have been a fun distraction, but now players are ready to return to the style of play that made us love COD in the first place.
This refresh gives developers Sledgehammer the chance to change other areas that have become staples of the franchise. While we are prepared to bet that we will still be shooting people in some way, little else is guaranteed at this stage.
All we know is that health regeneration is out, and WW2 will introduce new social hub areas and a large scale asymmetrical 'War' mode of play.
Following the game's reveal earlier this week, we spoke with some of the best professional Call of Duty players in the world about what they want to see as the series their livelihoods depend on changes so drastically.
Mark "MarkyB" Bryceland - Millenium
"It's hard to say what gameplay features I would like, but I do want a robust ranking system. That's something that we haven't had before, but I feel like that's what I would really like to see. Just a better ranking system for competitive play.
"The last couple of CODs have had competitive play lobbies and stuff like that, but I don't really think they generate the same interests as league play did back in Black Ops 2. And even then, with league play on Black Ops 2, there was a lot of flaws to it, it could've been way better. I feel like just an improved version of league play would be great."
Bradley "wuskin" Marshall - Fnatic
"My thoughts about the new Call of Duty are all over the place! I can't wait to see what it holds. Really I just want to see a lot of consistency with the new game and I'm very confident that I will be able to change over back to that type of the play style."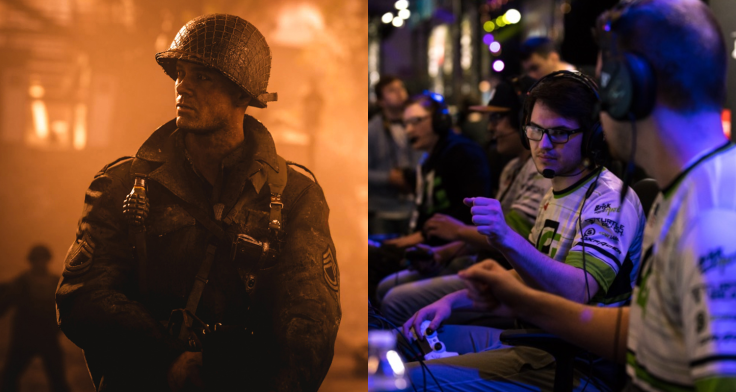 Shane "ShAnE" McKerral - Team Vitality
"I want the logical respawn system to return. It's not seen as much from a viewer's perspective because they don't understand as much as the pro players, but the spawns used to be so controllable. Elements of randomness should not be in any form of competitive play, but they have been for a long time now."
David "Urban" Marsh - Red Reserve EU
"In WW2 I would like it to be a straight-up game without specialists and a system of create-a-class like we have seen in the last three or so years, with a pick-10 system for perks and guns. I am a fan of Capture the Flag [CTF], it really is a great game mode with a lot of strategy involved.
"Black Ops 3 and the CTF meta used doesn't shine a light on what CTF was on Modern Warfare 3, when it was one of the two game modes used for competitive play in Europe. Overall I want it to be a boots-on-the-ground-style game with reasonably sized maps. The negative part of World at War for me was the map sizing, so hopefully they get that on point coming into the new game.
"My only thought about WW2 for the spectators is that if they came in to watch Call of Duty within the last three years, since Advanced Warfare, they are used to an action-packed high interaction game due to the movement mechanics and the speed that the game is played at. I hope they will be able to get used to potentially a more strategic game where clutch plays are more important than ever."
Alec "Arcitys" Sanderson - eUnited
"I want them to remove specialists, they just change games too much and too often, and I want them to bring back normal Search and Destroy this year."
Philip "Momo" Whitfield - Former pro player turned caster
"I'd love to see a kind of league play system like in Black Ops 2, which makes it very easy for anyone out there to get involved with competitive play. That's the important thing, making it easy and accessible for your average Joe, allowing him to just jump into a game and go, 'Oh, these are new settings. This is a little bit more competitive than the normal games I have been playing.' So, that'd be what I'd like to see, because it will get more people involved with the professional and competitive side of the game."
---
Clearly there is a lot of things that these elite level players (and myself) want to see implemented into COD: WW2 this November. While it would be foolish to think that all of their suggestions will show up, we can probably expect to see one or two of these ideas when we finally get hands on with the multiplayer side of things at E3 in a few months.
The return of league play, or a similar system for competitive play without the need to go to an external website, would be welcomed by many amateur players, and should help further establish COD as one of the biggest eSports in the world.
From a in-game standpoint the removal of specialists certainly wouldn't come as a surprise, as I'm fairly sure there wasn't much in the way of cloaking devices or robot dogs back in WW2. The return of CTF and a tweaked version of S&D are also reasonable shouts that we would really like to see, although we think that ShAnE may be a little disappointed with the spawn system as a change to that would be classed as a big surprise.
Of course the pro players can suggest ideas until they are blue in the face, ultimately it comes down to those clever folks over at Sledgehammer Games and the decisions they have been making over the last three years. Unfortunately we won't get to know about those for another few months yet, but last time out Sledgehammer revolutionised the Call of Duty series –and it looks like they may just be about to do it again.
Call of Duty: WW2 is out on 3 November for PS4, Xbox One and PC.
For all the latest video game news follow us on Twitter @IBTGamesUK.
© Copyright IBTimes 2023. All rights reserved.